INTERPOL to defend dictator from "hooligans"
30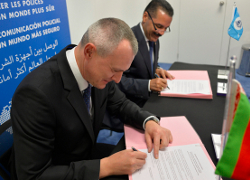 The International Criminal Police Organisation will help Belarusian security services at the Ice Hockey World Championship.
The relative press release was posted on the official website of INTERPOL.
The organisation promises to assist local and national authorities in making the 2014 IIHF Ice Hockey World Championship in Belarus and send the Major Event Support Team (IMEST) to the country.
Under a Memorandum of Understanding signed by the Belarus Minister of Internal Affairs, Ihar Shunevich and INTERPOL Secretary General Ronald K. Noble during a meeting in Colombia, the IMEST will be deployed to Minsk for the duration of the Ice Hockey World Championship.
"It will help detect potential threats of terrorism, hooliganism and serious crime, and facilitate the real-time exchange of key police information to assist security both at border entry points and throughout the country," the press release says.
The document was signed in Cartagena de Indias, Colombia, during INTERPOL's 82nd General Assembly on October 21-23.
The IMEST team will be composed of experienced specialised police officers and operational assistants. It will help local police forces by facilitating access to INTERPOL's secure network which permits the exchange of vital police data such as fingerprints, images, stolen identity documents and wanted person profiles.
"The 2014 Ice Hockey World Championship is an international event which requires international law enforcement collaboration to address potential security risks. The safety of thousands of fans during the event is a priority for INTERPOL, and this agreement with Belarus underlines its commitment to ensuring that the citizens of Belarus as well as visitors can all safely enjoy the Championship," said INTERPOL Secretary General Ronald K. Noble.
We remind that the Belarusian authorities often use far-fetched accusations of hooliganism to jail opposition activists. This method is often applied ahead of or during mass events.
Lukashenka recently issued a decree restricting the coverage of the world championship. "The journalists who have not covered sporting events or hockey will not be given accreditation," Piotr Rabukhin, a manager of the directorate in charge of arranging the championship, explained the decree.
Human rights activists and international organisations stand against holding the Ice Hockey World Championship in Belarus due to repression organised by the authorities against opposition activists.
Photo: INTERPOL