Blacklisted propagandists and oligarchs sue EU
74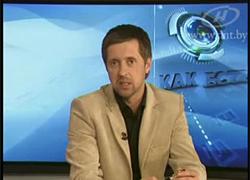 The persons included in the blacklist were granted legal aid by the Court of Justice of the European Union.
The EU Council recently updated the blacklist: 13 persons were removed and 3 added. Meanwhile, fights in the Court of Justice of the European Union continue: 9 cases over complaints from Belarusian individuals and entities subject to sanctions were declared admissible, belinstitute.eu reports.
Peftiev, Chizh and Ternavsky are applicants in the EU Court
Besides Vladimir Peftiev and three of his companies (Beltechexport, Sport-Pari and BT Telecommunications), other well-known businessmen filed applications to the Court. Anatoly Ternavsky applied to the EU judiciary bodies in May 2012 (and pointed Moscow as place of his residence). Yury Chyzh filed two applications: one concerning 13 of his companies and the other concerning FC Dinamo Minsk.
7,000 euros for Aliaksei Mikhalchanka and 6,000 euros for Vadzim Ipatau
Propagandist Aliaksei Mikhalchanka (in the photo) and deputy head of the Central Election Committee Vadzim Ipatau didn't only lodged applications to the EU Court, but also applied for legal aid.
Both applicants used article 94 of the Rules of Procedure of the General Court. Under the article, the court must cover, in whole or in part, the costs involved in legal assistance and representation by a lawyer in proceedings before the General Court if the applicant is unable to meet the costs due to his economic situation. The Court assesses the economic situation "taking into account objective factors such as income, capital and the family situation".
Both Mikhalchanka and Ipatau submitted the documents describing their salary and the family situation. The Court took a decision to grant them legal aid.
According to the Court's documents, Mikhalchanka counted on the legal aid of at least 30,000 euros. In accordance with his calculations, he needs 11,500-13,500 euros only to pay his lawyer, Sorbonne graduate M. Michalauskas, for representing his interests.
The EU Court, taking into account the previous precedents, granted 7,000 euros to Mikhalchanka and 6,000 euros for Ipatau. The sum will be paid to the lawyer (Michalauskas represents the interests of both applicants) after the decision closing the proceedings on the ground of the legal services rendered.