Lukashenka off to Turkmenistan on official visit
55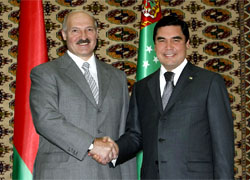 Lukashenka will be in Turkmenistan on an official visit on 4-5 November, the press service of the Belarusian leader told.
While in Turkmenistan the Belarusian head of state is expected to hold negotiations with Turkmenistan President Gurbanguly Berdimuhamedov one on one and in an expanded attendance session. After the negotiations the sides are expected to sign a number of bilateral documents to advance cooperation in various areas.
In Ashgabat members of the Belarus delegation will also hold meetings to advance the bilateral relations.
Over the last five years Belarus-Turkmenistan trade has increased by 400% thanks to the high growth rate of Belarusian export. In 2012 the bilateral trade exceeded $300 million.
Belarus' major exports to Turkmenistan include tractors, trucks, road machines, construction and agricultural machines, bicycles, lift trucks, tires, medications, chemical fibers, woodworking industry products, food.
The implementation of the contract between Belarusian OAO Belgorhimprom and the state concern Turkmenhimiya is the largest joint project. The contract envisages the turn-key construction of the Garlyk mining and processing factory that will produce potash fertilizers.