Yermakova: We already printed new banknotes
207
18.12.2013, 13:11

227,806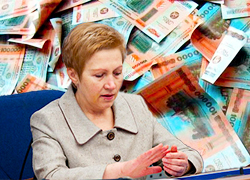 The ruble redenomination is planned in Belarus.
Nadzezhda Yermakova, the chief of the Belarusian National Bank, said it to Zviazda newspaper, BelTA news agency reports.
"We plan a redenomination, but it's too early to speak about the date," Nadzezhda Yermakova noted. The National Bank chief said the inflation rate of under 10% was needed to carry out redenomination, otherwise large denomination banknotes would appear again due to the price growth.
As the inflation rate is expected to be 11% the next year, it's too early to discuss the redenomination in 2014, Nadzezhda Yermakova says. "We have new banknotes, we already printed them. But it's too early to issue them," the National Bank chief noted.
Lukashenka also said earlier that banknotes for the redenomination had been printed.
"Redenomination is not a problem. It's a technical issue. We have printed banknotes. They have been in warehouses for some years, but it is more important for us to have stability on the currency market," he said at a press conference for Russian media in Minsk. "It's better to carry it [redenomination] out when the situation on the currency market becomes more stable."