Belarus to give oil refineries to Russia?
179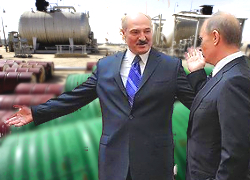 Belarus may sell Russia the country's oil refineries in exchange for an agreement on oil supplies.
This opinion was expressed by Konstantin Simonov, the head of Russia's National Energy Security Fund, Regnum news agency informs.
Th expert thinks the situation will develop "in a rather traditional for the Russian-Belarusian relations direction". "One of the parties makes concessions, but receives compensation in response," he explains. He gave an example of a deal to sell Belarus's gas transportation system. "Russia insisted that Beltransgaz should be sold and got it in the end, though Russia paid a high price for it and gave Belarus a big discount on gas," Simonov said.
According to the expert, it was the same with oil products. He recalls: "Moscow understands something strange was going on: oil is being supplied to Belarus, the country processes it and sells oil products to Europe, but doesn't pay duties to Russia." "A tricky solution was found: the problem was solved, but Belarus got other discounts," he said. The expert noted: "Belarus continues to make oil products, but declares them as varnishes and paints and sells them to Europe deceiving Russia."
Simonov thinks the new agreement will be a "big compromise". "For example, Belarus will have to admit it is engaged in factual smuggling and Belarusian oil refineries will be sold to Russian companies, but at high prices," he suggested. In the expert's opinion, "on the one hand, it will look that Belarus yielded to Russia, but on the other hand, Minsk will have such a big compensation that it can be interpreted as Lukashenka's victory."
It became known on February 28 that representatives of Russia and Belarus failed on agree on the energy balance for 2013. Grigory Rapota, the state secretary of Belarus-Russia Union State, said: "The Ministry of Energy of Russia took time out." The agreement on Russian oil supplies to Belarus was signed only for the first quarter of the year. Russia says it will be ready to deliver 18.5 million tonnes of oil, while official Minsk insists on 23 million tonnes.