Poland seeks protection from Belarusian Iskander systems
109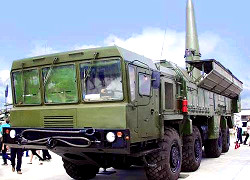 The Polish defence minister is paying an official visit to Japan.
Cooperation in antimissile defence is among the topics to be discussed in Tokio, W Polityce reports.
In Tokyo, Warsaw seeks technologies and air defence weapons able to protect the country from Belarusian and Russian missiles, former Undersecretary of State at the Polish MFA Witold Waszczykowski says.
"We confront with increasingly assertive Moscow's policy. Russians admit they don't like the political and military situation in Europe. I heard during the latest visit of representatives of the committees on foreign affairs of the Sejm and the Senate to Moscow that Russia feels a military threat from NATO and wants the alliance to be dissolved and a new military union with Russia's membership to be founded instead," the politician said.
The former MFA official noted that the Polish army needed new technologies and weapons due to a threat from Belarus and Russia.
"Japan perhaps has the technologies and equipment Poland needs to provide protection from Iskander or other missiles that Minsk and Moscow have. The Defence Ministry perhaps carried out a thorough  analysis that showed what threats we have and how we can protect ourselves," Witold Waszczykowski said.
It should be reminded that top military officials of Russia and Belarus said  that the two states would have Zapad 2013 joint military exercises in September 2013. The two-stage drills will be held in Russia and Belarus.
Poland, Lithuania and Latvia already expressed their concern over the military exercises.
Lithuania's minister of defence Juozas Olekas said in late January that some elements of the forthcoming drills would be directed against neighbours. Lukashenka responded the exercises would not pose a threat to other countries.
There is no official information about the scenario of the war game and the troops involved, but it wouldn't be wrong to suppose it will resemble the Zapad 2009 exercises, which evoked a wide response. The exercises, which involved 12,000 troops, were officially called defensive aimed at ensuring strategic stability in the region.
According to some reports, the scenario included attacks on the Baltic States and a preventive nuclear attack on Poland.
Vilnius and Riga asked Belarus to provide more information about the drills on February 25. The Lithuanian MFA proposed Minsk to invite NATO representatives to the military exercises.