Pickets on Freedom Day banned in regions
6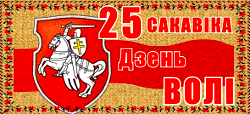 The district executive committee of Klimavichy denied holding a picket ahead of Freedom Day.
Klimavichy activists from Tell the Truth campaign received a reply from the local district executive committee to their application for holding a picket on occasion of Freedom Day on March 25.
The Klimavichy district executive committee didn't allow to have the picket at the city market, Viasna human rights centre reports.
The application was declined, because, according to officials, it "does not comply with article 5 of the Law on Mass Events of December 30, 1997".
Alyaksandr Balobin, a local activist of Tell the Truth campaign, says he is not surprised by the reply.
"We planned to have a picket on March 23 at the city market in Klimavichy," Alyaksnadr Balobin says. "On March 4, activists of Tell the Truth campaign filed an application to the district executive committee for holding a picket on Freedom Day. The application was registered in the Klimavichy district executive committee and given the number 83.
Three activists signed the application. We received the reply banning to organise the picket two days ago. To be honest, we didn't expect anything else. We won't give up. We consulted with human rights activists and filed another application yesterday. If it is declined again, we will celebrate Freedom Day in other ways. We have some ideas."