Russia will deploy an aviation base in Belarus
188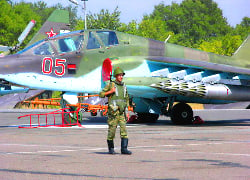 The first flight of fighter planes will arrive to our country already this year.
The Minister of Defense of Russia Sergei Shoigu claimed that at a meeting with Lukashenka, Interfax reports.
"We are starting to consider the plan of creating a Russian aviation base here with fighter planes, hope that in 2015 an aviation regiment will be based here. In 2013 we will created here an aviation commandant's office and will deploy the first on-duty flight of combat fighter planes", - the head of Russia's military agency noted.
Sergei Shoigu also claimed that Moscow plans to ship 4 more batteries of anti-aircraft missile systems S-300 to Minsk in 2013.
He informed that currently Russian and Belarusian military are very actively preparing the joint military practice West-2013.
We would note that the practice cause anxiety among the neighbors of Belarus.
There is little official information about the scenario of the war games and the troops involved, but it wouldn't be wrong to suppose it will resemble Zapad 2009 exercises, which evoked a wide response. The exercises, which involved 12,000 troops, were officially called defensive aimed at ensuring strategic stability in the region. According to some reports, the scenario included attacks on the Baltic States and a preventive nuclear attack on Poland.