Authorities agreed about the sale of Minsk Wheel Tractor Plant
34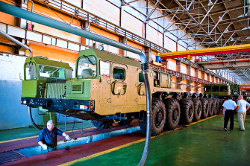 Minsk sees as a partner the PVO Almaz-Antei concern, NPO Splav and Moscow Institute of Heat Engineering.
The principled agreement to sell the controlling interest of Minsk Wheel Tractor Plant to a Russian party has been reached in March at a meeting of the vice-Prime Minister of Russia Arkadiy Dvorkovich and first deputy Prime Minister of the Republic of Belarus Uladzimir Siamashka, Izvestia reports.
- Such an agreement has been reached and Dmitry Medvedev and Aliaksandr Lukashenka have been already informed about it, - a source in the government told. According to him, the only contentious issue is still the candidate buyer. Belarus does not want to sell the Minsk enterprise to KAMAZ or Uralvagonzavod, which are producers of similar products. But it is exactly the option suggested by the Russia party.  
As a source, close to the negotiations, stated, the Belarusians would want to see PVO Almaz-Antei concern, NPO Splav, NPK Design Office of Machine Building and Moscow Institute of Heat Engeneering. Such an option is explained by the fact that MWTP has long been cooperating with these organizations, supplying its products to them and it is assumed that the new owner will participate in the development and modernization of the plant in Minsk. Respectively, the Belarusian party has apprehensions that KAMAZ or Uralvagonzavod, while competitors, will not pay the necessary attention to the development of the enterprise.
MWTP's products has been widely used in Russia's military industry. Thus, the Belarusian enterprise supplies Russia's defense with chassis for mobile theater ballistic missile systems Iskander, self-propelled multiple rocket launcher systems Uragan, Smerch, Grad, Tornado of all the modifications, Tor and Buk missile systems on wheels (export variants), long range surface-to-air missile systems S-300 and S-400. All the mobile missile complexes of Russia's missile strategic troops have MWTP's chassis.