It was planned to arrest Kerimov and Voloshin besides Baumgertner
275
26.08.2013, 15:20

250,812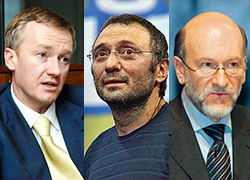 Uralkali CEO was detained as he was going to leave Belarus by plane.
Uralkali CEO Vladislav Baumgertner arrived in Belarus on a written invitation from the country's prime minister, Interfax news agency learnt from Uralkali's spokesman Alexander Babinsky.
Invitations were also sent to chairman of Uralkali's Board of Directors Alexander Voloshin and shareholder Suleyman Kerimov, but they were not able to come, RIA Novosti reports with a link to Uralkali's spokesman.
"He met with the prime minister and got detained as he was leaving the country," Babinsky said.
"We consider it a gross provocation by Minsk. We express our outrage over the situation," Uralkali's spokesman said.
He added that Uralkali appealed to the MFA and the Russian consulate asking for their assistance to release Baumgertner.
The representative of the Russian company said that Uralkali's top managers put on the wanted list by the Belarusian Investigation Committee were in Moscow.
Oligarch Suleyman Kerimov and chairman of Uralkali's Board of Directors Alexander Voloshyn (a former head of the Russian presidential administration under Boris Yeltsin and Vladimir Putin) might have been arrested together with Uralkali CEO Vladislav Baumgetner if they had come to Belarus.
The Investigation Committee reports about "hostile plans" of Uralkali's executives and claims to Kerimov.
"A part of the information obtained during the investigation casts light on hostile plans of the Uralkali management in relation to Israeli, German and Canadian potash producers," Pavel Traulka, a spokesman for the Investigation Committee, says.
"The preliminary assessment of the information shows it wasn't a normal competition in compliance with the law. It was illegal plans with clear signs of large-scale fraud and international corporate raiding," he said.
"I'd like to disclose just one fact – a scenario of what has just happened was prepared by the persons involved in the case in 2011. They planned to undermine the world potash market and gain maximum personal profits," he said. "I'd like to say in general that there are all grounds to state that new facts of illegal activities of the offenders will appear. Actions by other persons, inducing Uralkali's shareholder Suleyman Kerimov, are being assessed to figure out whether they were involved in the illegal activities".
The Belarusian law-enforcement agencies are said to have many facts about "dubious" actions by the charged top managers not only against Belarusians, but also against Russian banks, Chinese financial institutions and numerous foreign partners.
The representative of the Investigation Committee noted that the fraud began with "concentration of power in potash sales in the hands of a small group of top managers linked to Uralkali's shareholders and isolation of Belarusians from any important information." Traulka said the aim of the group was to gain full control over all financial flows and main trade partners in key markets.
Vladislav Baumgertner is reported today to have been detained by Belarusian law-enforcement bodies. Uralkali CEO and chairman of the Supervisory Board of the Belarusian Potash Company is accused of abuse of power. The Belarusian Investigation Committee investigates criminal cases initiated by the Prosecutor General's Office under part 3 of article 424 (abuse of power) against executives of the Belarusian Potash Company.
The criminal cases were initiated in connection with the information "about abuse of power inflicting gross harm to the state and public interests of Belarus and causing large-scale damage to Belaruskali and BPC," the Investigation Committee says. Supervisory Board member Oleg Petrov, first deputy general director Konstantin Solodovnikov, financial affairs deputy general director Igor Yevstratov, head of the freight department Dmitry Samoylov were put on the international wanted list.