Lukashenka awarded for idiocy (Video)
244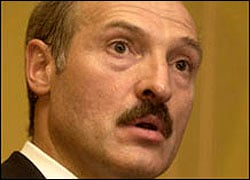 Harvard University awarded the Belarusian dictator with the Ig Nobel Prize.
The Ig Nobel Prize ceremony to honour achievements that "first make people laugh, and then make them think" was held at Harvard University on Thursday.
The award was founded by Mark Abrahams and the humour magazine Annals of Improbable Research.
Harvard University honoured Lukashenka's achievements in fighting opposition protests: he received his prize for making it illegal to applaud in public. Special attention was given to the story of arresting a one-armed man for applauding. Organisers couldn't reach the dictator and invite him to the ceremony.
It looks symbolic that Leanid Kozik, the chair of the Federation of Belarusian Trade Unions, proposed to nominate Lukashenka for the Nobel Prize in Economics amid the crisis in 2011.