Lithuanian court: Oligarch Peftiev has links with Viktor Bout
12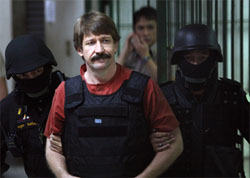 Interesting details have been revealed during the court proceedings in the case of Vladimir Peftiev and the EU sanctions.
The dispute between Lithuanian bodies and Lukashenka's "banker" over his assets frozen by Lithuania is being heard by the Court of Justice of the European Union, ru.DELFI.lt reports. The Supreme Administrative Court of Lithuania ruled to apply to the CJEU after hearing complaints from the MFA and the Financial Crime Investigation Service (FCIS) about the adverse judgement of the Vilnius Regional Administrative Court.
Vladimir Peftiev, a EU blacklisted oligarch, won his first lawsuit in Lithuania on August 27, 2012. The Vilnius Regional Administrative Court ordered the MFA and the FCIS to review claims filed in December 2011 by the oligarch himself, Belarus's biggest arm dealer Beltechexport company headed by him, Sport-Pari and BT Telecommunications. Vladimir Peftiev wanted permission to use his frozen accounts to pay Lawin law firm that represents the oligarch's interests in the EU court in the case over sanctions against him.
According to the Supreme Administrative Court of Lithuania, the oligarch is the main financial sponsor of the Lukashenka regime who controls Belarusian arms exports.
"There's an opinion that most part of Lukashenka's personal assets and the president's reserve fund is money from arms trade and lotteries. Vladimir Peftiev's success in arms trade and other businesses can be explained by his close ties with top-ranking officials and security officers. Besides, Vladimir Peftiev has links with Russian arms dealer Viktor Bout. The MFA concluded from available information that Peftiev's financial resources for payments to Lawin firm were received illegally," the ruling of the Supreme Administrative Court of Lithuania says.
Hearings of Vladimir Peftiev's case were suspended until receiving a preliminary ruling of the Court of Justice of the European Union.
Viktor Bout was sentenced to 25 years in prison. He was arrested in March 2008 in Thailand on a US warrant. The US suspected him of attempting to sell arms to Colombian FARC group considered a terrorist organisation by Washington. Trial began in New York in 2011. The guilty verdict was pronounced last year.
Viktor Bout had served as an army officer in Vitebsk for a long time.