Russia accuses Belarus of potatoes smuggling
86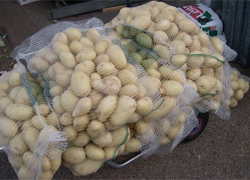 The Russian Federal Service for Veterinary and Phytosanitary Surveillance (Rosselkhoznadzor) accuses Belarus of selling European potatoes as Belarusian.
Russia's veterinary watchdog asks the Belarusian veterinary agencies to hold urgent consultations on the supplies of potatoes from Belarus to Russia, ITAR-TASS news agency quotes the service's head Sergei Dankvert.
"We have information that supplying companies are proposing Russian partners to supply potatoes from EU countries via Belarus," he said. It explains why EU potato producers don't want the Russian service to check their products, Rosselkhoznadzor thinks.
Rosselkhoznadzor will check every batch of potatoes from the EU.
Belarus didn't join the Customs Union's agreements that allow controlling the origin of potatoes delivered to partners' markets. It gives the country an opportunity to sell European potatoes as Belarusian, Rosselkhoznadzor explains. "We're preparing a letter to impose restrictions on planting and commercial potatoes import from Belarus and we ask Minsk to hold urgent consultations," Dankvert said.
Russia has restricted supplies of European potatoes due to a threat of dangerous planting diseases. Rosselkhoznadzor, however, said earlier that planting products could be imported to Russia if the service checks every batch.