US Admiral: Putin lies, Russian troops are in Ukraine
4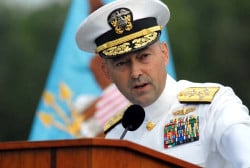 Russia's troops must be withdrawn from Ukraine.
Admiral James Stavridis, former NATO's Supreme Allied Commander Europe, said it to ČT24 TV, RFE/RL reports.
Ukraine is a sovereign state and Russian troops should not stay in the country without the consent of the Ukrainian army, Stavridis says, adding that the troops should be pulled out, but the complete withdrawal is not being observed.
The American military expert thinks one should not believe Vladimir Putin, who says there are no Russian troops in Ukraine. NATO monitors troops movement and knows that the Russian military are in Ukraine, which is more provocative than anything that NATO does.
James Stavridis noted Ukraine could join NATO as any independent state ready to implement the principles of the Alliance.
It would be a mistake to think that NATO builds a wall, the former NATO's Supreme Allied Commander Europe thinks.