Andriy Parubiy: Europe should be ready for "Russian peace" if Putin not to be stopped
8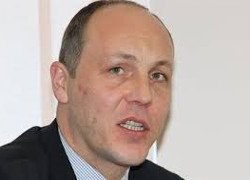 The Russian president can be stopped by force only.
Today in Warsaw the tenth Eastern European Forum PAUCI on "Transatlantic Community against Eurasia - new challenges and opportunities" has taken place. The first speaker was Andriy Parubiy, the first Deputy Chairman of the Verkhovna Rada of Ukraine, the correspondent of charter97.org reports.
Ukrainian politician assured that without joint actions of the West and the East Putin will make an inroad upon their countries and the only way to stop him is to use force. For example, by introducing sanctions which are directed on the erosion of economic system of the Russian Federation.
"Putin once said that the collapse of the Soviet Union had become the greatest geopolitical tragedy. It is an excellent example of his plans concerning Ukraine and other post-Soviet countries. His aim is to restore the USSR in order to bring Ukraine under control of Kremlin.
During Euromaidan there was a struggle not only for the change of political power but also for free speech, and the failure of Association with the European Union would have meant a gradual loss of independence of Ukraine. Yanukovych used to be a puppet of Putin. The victory of the Maidan and military aggression of the Russian Federation as a result only confirm the thesis that Putin's main aim is to restore the influence of Kremlin. Putin does not see the resumption of the Russian Empire without Ukraine, but his ambitions also cover other countries in Europe.
There is a hybrid war in Ukraine when actions are taken not only with the help of sent raiding parties, but also through propaganda. In case it worked in Ukraine so it would mean that the same technique might be used in other countries of Eastern and Western Europe. Ukraine is at the cutting-edge of war with "Russian peace" which Putin may spread Europe-wide. Until we come to understanding that Putin wants to destroy the security system not only in Europe but in the whole civilized world, we will not be able to take clear, correct and adequate counter measures.
Ukraine makes its own way and I would like to assure you that Maidan in Ukraine is still urgent. Many thousands of people, standing for Maidan, are currently defending security road blocks in eastern Ukraine. It would be hard to hold positions without the help of these patriots and the volunteer movement. However, Ukraine alone is not able to fight back as one of the greatest armies in the world stands against us. Sanctions are our second front and I am sure that only forcible actions can make Putin stop. We are able to stop him by introducing sanctions in order to weaken the Russian financial system. We must realize that if we are not able to make a joint reprisal, we will not be able to talk about the ability of people in Europe for self-determination in general", he said.
Andriy Parubiy is a Ukrainian politician and the former Secretary of the National Security and Defence Council of Ukraine, appointed after leading the anti-government protests in the 2014 Ukrainian revolution, until his resignation on 7 August 2014. From November 2013 to February 2014 Parubiy was a commandant of Euromaidan. In September 2014 Parubiy became a founding member of his new party People's Front. In December 2014 he was appointed the First Deputy Chairman of Verkhovna Rada of Ukraine.