Black Friday in Belarus: Dollar costs 14,150, euro – 17,400 rubles
553
19.12.2014, 12:33

273,328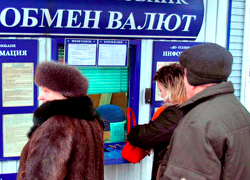 The National Bank has imposed a 30% fee on selling foreign currency.
The National Bank has signed a decision to impose a 30% fee on selling foreign cash to individuals and companies. The dollar may cost 14,150 rubles, the euro – 17,400 rubles.
It said in a press release of the National Bank.
"Taking into account the situation in the economy of the neighbouring countries, above all the Russian Federation, the Government and the National Bank of the Republic of Belarus have taken a number of measures to prevent negative trends in the currency and monetary markets of Belarus and raise the attractiveness of savings in Belarusian rubles.
The National Bank raised interest rates up to 50% on constantly available and bilateral operations to support the bank liquidity. It will lead to an increase in interest rates on ruble-denominated deposits.
All big Belarusian banks have introduced a fix-term guaranteed saving deposit with an opportunity to adjust the savings in Belarusian rubles to the exchange rate. It will protect savings in the national currency from exchange rate risks and makes them more attractive than deposits in foreign currencies.
A decision on a temporary 30% fee on selling foreign currency to individuals and companies was taken in view of the increased demand for foreign currency in the domestic currency market. Companies and banks will pay the fee when buying foreign currency on the exchange, individuals will pay it when buying currency at banks. The collected fees will be sent to the state budget.
The approaches to the formation of the foreign currency exchange rate will remain unchanged. Any person can buy and sell foreign currency without restrictions. Economic entities can buy it at the Belarusian Currency and Stock Exchange. A temporary ban was imposed on selling and buying foreign currency at the over-the-counter currency market by economic entities residing in Belarus.
Companies must sell 50% of their foreign currency proceeds to the state since December 19, 2014.
The monetary policy has been tightened to stop the growth of money supply and increase the "cost" of the national currency.
Banks are recommended to refrain from expanding the loan portfolio in Belarusian rubles and from changing the currency of borrowed funds until February 1, 2015.
A decision was made to suspend supervisory response measures for the non-observance of the National Bank's Resolution No. 260 as of April 22, 2014, "Concerning the upper limit on interest rates on loans for legal entities of the Republic of Belarus," the National Bank informed. The decision will be valid from 18 December 2014 until 1 January 2015.
The measures will increase the attractiveness of savings in Belarusian rubles, balance out the currency market amid the increased demand for foreign currency and prevent speculation," the press release says.