Alyaksandr Danilyuk: Events in Belarus are the same as in Crimea before occupation
8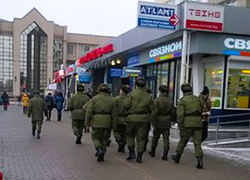 The number of Russian military is growing in Belarus under the guise of rotation.
Such a statement has been made by a Ukrainian public activist Oleksandr Danilyuk. In this way he commented in his account on Facebook on the visits of leaders of Belarus and Kazakhstan to Kyiv.
"In the both countries which have military bases of Russia on their territory, the events which are taking place at the moment remind the events in Crimea in February," Oleksandr Danilyuk writes. "Under the guise of rotation, the number of Russian troops at the military bases in Kazakhstan and Belarus is growing."
We remind that earlier Russian soldiers from Bryansk had been spotted in Homel. They were in uniform without insignia. Charter97.org was informed about that by an activist of the Young Front Andrei Tsyanyuta.
"Yesterday I saw soldiers while I was walking around the station. I drew attention to the fact that they were wearing the uniform differing from the one of our soldiers. They were wearing green winter caps without insignia or chevrons. I walked up to them to ask who they were and whether it was a Belarusian uniform. I got the answer: "We are Russians". They said they were from Bryansk. Then I asked about possible military exercises to take place but they replied: "No, there will be a war, so we have rotation and trainings", he said.