Channel 5 journalist: Leader of Ukrainian communists Symonenko is in Minsk
27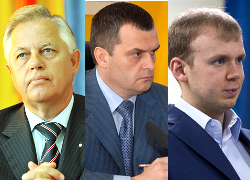 The leader of the Communist Party of Ukraine has fled the country and hides in Belarus.
Journalist of Channel 5 Andriy Kovalyov writes it.
"Symonenko is in Minsk. He'll fly to Moscow on a chartered plane tomorrow," he writes referring to sources in the Communist Party of Ukraine.
@euroukraine @ukrpravda_news Симоненко у Мінську. Завтра вранці чартером перелітає у Москву. Коли Ви його востаннє в Раді бачили?

— Андрій Ковальов (@Andriy_Kovalov) 16 Март 2014
Ousted president Yanukovych and about 40 members of his team, among them ministers, members of parliament and oligarchs, left Ukraine after the new authorities came to power. They were put on the wanted list. According to media, interior minister Vitaliy Zakharchenko, accused by the opposition of killing Maidan activists and businessman Serhiy Kurchenko, close to the Yanukovych family, fled to Minsk. The Belarusian KGB ordered both to leave the country immediately, according to unofficial information.