Belarus mobilises former border guards and soldiers of internal troops
117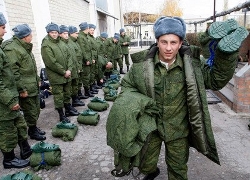 Reservists and former soldiers of internal troops are called for a medical examination in Baranavichy.
It's possible that they will be sent to the Belarusian-Ukrainian border. On Monday, March 17, a local polyclinic was full with reservists, mostly former border guards and soldiers of internal troops, Euroradio reports.
Experts say military enlistment offices mobilise former soldiers to strengthen security at the Ukrainian-Belarusian border due to a threat of Russia's intervention in Ukraine or the escalation of the conflict in Ukraine, Belorusski Partizan writes.
It was earlier reported that Belarusian aircraft were put on alert near Luninets, close to the Ukrainian border.
As the website Media-Polesye reports with a reference to an unnamed source, Mi-8 helicopters and MiG-29 fighter jets landed at the aerodrome in Luninets on Friday. They were put on alert on March 15.
Belarusian MiG aircraft carrying short- and long-range missiles are based at air bases in Baranavichy and Pruzhany. There's no information about the exact number of planes and weapons.
A large group of military personnel – pilots, engineering staff and a flight control group – arrived in Luninets.