Russian fighter jets have gone on combat duty in Babrujsk
3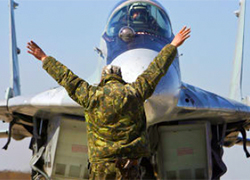 Russia's fighter jets started their duty in Mahilou region.
The information comes from a representative of Belarus' Defense Ministry, RIA Novosti reports.
Several days ago it came out that Russia had sent to Belarus six Su-27 fighter jets and military air carriers for air intelligence and protecting the "Union State". CSTO's Secretary General Nikolay Bordyuzha reported that the organization had noticed intelligence activities on the part of NATO countries close to Belarus' borders. According to him, "NATO's aviation grouping was getting reinforced there".
"Crews and the technical staff of the 159th guardian fighter jet aviation regiment that belongs to 105th guardian mixed aviation division of the 1st command office of the air forces and air defense of the Western military district of the Russian Federation have gone on combat duty on air defense", - the agency reports. It is specified that the ceremonial ritual took place at the ground near Babrujsk airdrome's air traffic control tower.
Russian pilots have already studied the areas of future flights and took a preparation course for the combat duty, the newspaper points out. Since late last year Russian fighter jets have been on combat duty at another Belarusian airdrome – in Baranavichy, Brest region.
Apart from that it came out earlier that Belarus had started reinforcing its border with Ukraine. Thus, in Baranavichy they started summoning reserve soldiers, who had served in border guard troops, for medical inspections as well as those, who had previously served in interior troops.