Yuliy Mamchur: They kept me in single confinement cell, tried to convince to commit treason
29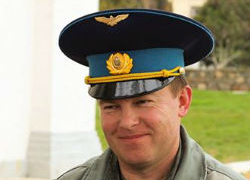 The information comes from the Facebook account of a journalist Yuriy Butusov.
"I just spoke on the phone with colonel Yuliy Mamchur 20 minutes after he reached the territory controlled by Ukrainian troops. Deputy chairman of the President's Administration Andriy Senchenko, Ukrainian authorities' curator for Crimea, helped us to connect", - the journalist wrote.
"They kept me in a single confinement cell for 3.5 days. On the first day unidentified Russian troops kept constantly talking to me – they tried to persuade me to commit treason, betray the oath to the people of Ukraine, go serve for in Russian army. Then there was just psychological pressure – the would not let me sleep, knocked on the door with gun butts. I feel well, the mood is fighting. What will I do next? First, I will take a shower, then I will be making decisions. Glory Ukraine!" – colonel Yuliy Mamchur said.
"I tried not to tire Yuliy with questions, that is why I thanked him on behalf of facebook and all the Ukrainians for the loyalty to the military oath and wished him all the best – our country needs such true colonels" – Butusov pointed out.
Yuliy Mamchur was kidnapped by Russian troops after the storming of the Belbek aviation base near Simferopol.