Russian army holds exercises on Polish and Lithuanian borders
72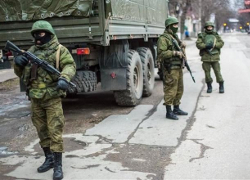 Large-scale tactical exercises have started in the Kaliningrad region.
The coast guard troops of the Baltic Sea Fleet are involved in the maneuvres. According to Russian media, the exercises began following a snap check of the armed forces ordered by Vladimir Putin. More than 3,500 servicemen of mechanised infantry regiments and the guards naval infantry brigade take part in the drills.
Representatives of Lithuania and Poland say the exercises pose a direct threat to third countries amid the intervention of Russian troops in Ukraine.
Dalia Grybauskaite held a meeting with Lithuanian heads of ministries and parliamentary committees responsible for defence and national security and said Lithuania was safe, but the army was closely monitoring the actions of the Russian military in Kaliningrad. Regnum news agency reports that the exercises made Lithuania and Poland appeal to NATO over applying Article 4, which provides for holding consultations if at least one country of the Alliance is threatened.
Polish General Marek Dukaczewski said to TVN24 in an interview that the military exercises in the Kaliningrad region violated the international norms. In particular, international observers were not invited, according to him. Russia also didn't warn the neighbouring countries about the drills. The general called on NATO to react urgently to the situation near the EU borders calling it a direct threat to the security of Lithuania and Poland.