Lukashenka promises "serfdom" in villages
181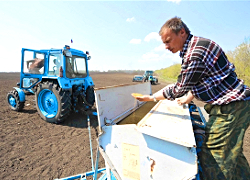 A decree forbidding agricultural workers to resign has been prepared.
Lukashenka said it on May 27 at a meeting to discuss problems of fodder production and animal husbandry effectiveness, the president's press service informs.
"I put this question straight, because I have the decree, which I've spoken about, on my table. I was handed it over in connection with, let's put it straight, 'serfdom'. We'll give all powers to governors. You cannot quit. You may remember that I said it in my address to the nation," Lukashenka said. "Start working so that people cannot say: you press on us, but you don't work properly. The government agencies will receive all powers in the nearest week. Don't expect unlimited freedom any more."
The ruler said about giving additional power to governors at the beginning of the meeting.
"I've gathered you here not to persuade you. No coaxing! I warned the head of the government and heads of the agricultural sector. Governors know about it. Mobilise people, all law-enforcement agencies will be subordinated directly to governors. Enough idle talking!" he said.