Belarus classifies data on potassium export
11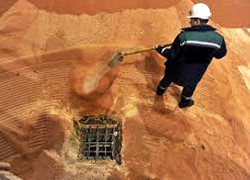 The National Statistics Committee has summarised results of trade in the period from January to May 2014.
The data on potassium export to separate countries are absent again, Zavtra Tvoyei Strany reports.
Last year's scandalous breakup of the cartel of Belaruskali and Uralkali led to a sharp decrease in prices at the market and a drop of income from the export of Belarusian potassium. Potassium export reduced by 22.5% in monetary terms. According to the National Statistics Committee of Belarus, incomes of Belaruskali fell 40% in Brazil, 36.4% in India, 24.9% in Norway, 18.2% in Poland. Incomes of Uralkali and other world fertiliser manufacturers also decreased. It provoked a tough competition.
Since the beginning of the year, monthly statistical reports have been giving only the total amount of exported potassium and the amount exported outside CIS countries. In the period from January to May 2014, the export of potash fertilisers was 1.1 billion dollars, which is 9.5% more than in the same period a year ago. Most of the exports went to non-CIS countries.
According to January-May results, the average price of potassium was 276.33 dollars per tonne. Last year's average price for the period from January to May was significantly higher – 384,05 dollars per tonne. Earlier, it was possible to count the average price for each country using the export amount and its value. To all appearances, the detailed information for each of the markets was classified due to this circumstance.
It's worth noting that the statistics committee took precautions only in relation to potash fertilisers. Information about the countries buying nitrogen and mixed fertilisers is still available.
It is not the first time when Belarusian governmental agencies have restricted access to information for public. The Belarusian Finance Ministry, which has been publishing results of open joint stock companies since 2006, did not include Beltransgaz in the list. Beltransgaz was turned into an open joint stock company as part of preparations to be sold to Russia's Gazprom. The authorities seem to have decided it was unnecessary to make the company's financial performance public.
By the way, the ministry of finance still does not include financial performance of OAO Gazprom Transgaz Belarus, former Beltransgaz, into its quarterly reports on results of open joint stock companies.
Economist Leanid Zlotnikau, for his part, says the statistics committee didn't try to make a secret.
"The matter is that monthly reports, for example for the months from January to May, do not include data on counties. Details can be given only for EurAsEC member states and Belarus's main partners. However, reports on foreign trade and customs statistics give detaieds information on all countries," he said in an interview with charter97.org.