Has "Belneftekhim" head Igor Zhilin been arrested?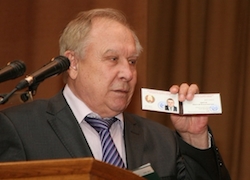 The head of the Belarusian State Concern for Oil and Chemistry (Belneftekhim Concern) Igor Zhilin (Ihar Zhylin) was arrested on July 1 and placed in the pretrial detention centre.
Charter97.org website has been informed about that by a source.
This information has not been confirmed or denied officially yet. At the official website of the concern there is a dash in the "Management personnel" section already.
By the decree of the government #631 dated by June 30, 2014 Igor Zhilin was released from his position.
Igor Zhilin, a citizen of Russia, was appointed to the position of the head of the concern on February 4, 2011. Earlier he headed Grodno Azot joint-stock company. Many people believed this appointment took place thanks to push given by the late oligarch Boris Berezovsky.
Experts name Igor Zhilin an inventor of the scheme of Russian oil products' smuggling and a scandal with breach of relations between "Belaruskali" and "Uralkali", as a result of which Uralkali CEO Vladislav Baumgertner was imprisoned in Belarus.
A month and a half ago the former Zhilin's assistant Vladimir Volkov was sentenced to 8 years in a penal colony with a reinforced regime. The former chief of "Belneftekhim" was demanded to give eviedence against members of the government.
Information:
Igor Zhilin was born on January 18, 1941 in Ordzhonikidze, North Ossetian Autonomous Soviet Socialist Republic. He graduated from Tomsk Polytechnics Institute and Kharkiv Engineer and Economic Institute (with a specialization in "Machines and equipment of chemical industry" and "Manufacturing process management.")
He started his work at Vakhshski nitric and fertilizer plant in the Tadjik Soviet Socialist Republic. Then he was in managerial positions at leading enterprises of the nitrogen and nitrogen compound making industry: Navoi chemical plant (the Uzbek SSR), PO "Azot" (Rivne, the Ukrainian SSR), Cherepovets PO "Azot" ( the Russian SSR), Rossoshany PO "Azot" (Russia), "Azot" association (Moscow, Russia). In 1990-1993 he was a deputy of the Supreme Soviet of Russian Federation, deputy chairman of the Committee of the Supreme Soviet on Issues of Economic Reform and Property. Since 203 he worked as a technical adviser of "SredneAzGaz" (Moscow), since 2006 he was the first deputy of the CEO of AO "Energy Invest" (Rustavi, Georgia).