Zhirinovsky: Baltic States and Poland will be wiped out
160
11.08.2014, 13:13

144,433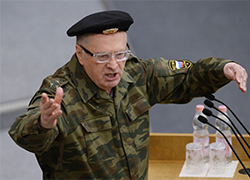 The politician, who is often dubbed the Kremlin's mouthpiece, threatens Poland and the Baltic States with carpet bombings.
According to him, whatever plans NATO and Brussels have and whatever directives Barack Obama signs, they won't have any power. "All questions of war and peace in general and in particular those relating to Ukraine will be solved by one person, the head of the Russian Federation," he said.
He made the statement on the air of Russia 24 Tv channel. The vice speaker of the Russian Duma, Vladimir Zhirinovsky, commended on tensions between Russia and the West and began to threaten the neighbouring countries.
Zhirinovsky promised carpet bombings and complete destruction of Poland and the Baltic States, ru.delfi.lt writes.
"The Baltic States and Poland are doomed," he said. "They will be wiped out. Nothing will remain there. The heads of these dwarf states should think who they are. Of course, nothing threatens America, because it is far, but Eastern European countries risk to be destroyed completely. This is their fault, because we cannot accept planes and missiles to be launched to Russia from their territories. We need to destroy them 30 minutes before the launch."