Elmar Brok: It seems that Russia will try to seize Odessa
9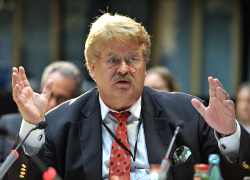 Russian troops are likely to continue aggression against Ukraine and attack Odessa.
The chairman of the European Parliament Committee on Foreign Affairs, Elmar Brok, said it in an interview with Evropeiska Pravda.
It seems that Russia will continue its aggression, which will include an attack on Odessa and the seizure of the Black Sea coast and the region of the Danube Delta, he notes.
According to the MEP, he becomes more pessimistic about possible developments. He thinks all possible efforts should be applied to explain to Putin that such actions will cost him a lot.
But we have a question if he cares about the price, Brok notes.
The president of Russia said earlier he could bring troops in Warsaw, Vilnius and a number of the EU and NATO capitals, according to a note by the the EU foreign service.