Lukashenka: I will not allow Maidan
415
29.01.2015, 11:25

117,762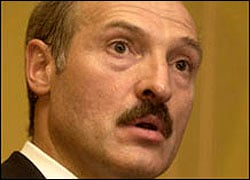 The staged press-conference of Lukashenka lasted for 7 hours.
It was the longest press-conference of the dictator over the entire period of his rule.
Laying his own fault at others' door
In the beginning of the event Lukashenka immediately stated that the crisis events in the economy of Belarus had been allegedly caused by external factors.
"We have faced serious challenges in the economy. This situation had been preconditioned by external factors, as we have an open economy. In connection with the events in Ukraine and the developments in the Russian economy – the sanctions and devaluation of national currencies of our neighbours in the economic union – it is natural that this could not but influence the situation in the economy of Belarus. Besides, add the psychological factor as well," Alyaksandr Lukashenka said at the press-conference for Belarusian and foreign mass media on Thursday in Minsk.
He emphasized that the Belarusian authorities "did their best to act promptly" and initiated a bailout package, which was to guarantee stability on the financial market of the country.
"As of today, it has worked out, but we'll see what will come next," the dictator said.
Lukashenka emphasized that the government continues to monitor the situation in the currency and consumer markets. "Everything is done I undisturbed manner and without any overstrain. As long as this matter concerns money – money likes silence. If you want the situation to stay balanced, no not make any noise on this topic. That's the psychology of the market economy," the ruler said.
Belarusians devalued currency themselves
"We were not going to do it. I told you that everything depends on you. If you start to rush to exchange offices and sell Belarusian rubles, we will not wait until the reserves of the National Bank and the gold and foreign exchange reserves are depleted. Of course, the population and enterprises will compel us to allow the national currency to flow freely. We had to do it", the head of state said.
Speaking about the socially-oriented model of the Belarusian state, Alexander Lukashenko said with confidence that it should not be abandoned. "We know the reasons of this complicated situation and are doing our best to overcome the difficulties", the President said and added that many countries copy the Belarusian model of social and economic development.
Press shouldn't write about exchange rate of Belarusian ruble
Lukashenka attributed the 40% devaluation of the Belarusian ruble to the crisis in Russia and the psychological constituent related to that. He also mentioned devaluation of Kazakhstan tenge in early 2014, AFN reports.
As said by him, the open economy could not but respond to these events in the form of the national currency's devaluation.
"We tried to carry out certain events as quickly as we could, in the way we are able to do. You know these measures very well… As of today, it has worked out, but we'll see what will happen next…," said Lukashenka, which was the first comment on the devaluation and measures taken by the government.
He also asked the press to write as little as possible about the exchange rate of the national currency and devaluation.
"Everything is done I undisturbed manner and without any overstrain. Finances love silence. Keep silent if you want the situation to be better," Lukashenka recommended to journalists.
"I don't have trust in Western partners"
Lukashenka said that he sees a certain thaw in the relations of the country with the European Union and the US thanks to the position of the official Minsk in the Ukrainian crisis, but he is not inclined to trust it very much, Interfax reports.
"As for the relations of Europe and the US, I certainly see what is happening in the countries of our Western partners in this connection. But I do not revel in the way the situation has shaped, and how it has helped us. I do not trust Western partners very much. It is politics, and it is a dirty business. Some have it a little bit cleaner, some have it dirtier, but it's politics," Lukashenka said.
"Such a position of Belarus is profitable for the West today, and they express thanks for that to us. I see that. But I am a pragmatist. There will be no great shifts in the relation to Belarus until the presidential election," he said.
Lukashenka underlined that the only aspiration everyone should have is to stop bloodshed in Ukraine.
"The only thing I want for Europe, which is greatly concerned by this crisis, and for the US, and for Russia which is greatly involved in the crisis, and for Belarus – and there is a threat of moving these events to the territories of Russia and Belarus – to do their best to stop this war," the dictator said.
The Russian people and Russian sacred to me
When asked whether the attitude of the West towards Belarus has changed in view of the country's stance on the conflict in Ukraine, Alexander Lukashenko said he does not expect any major shifts in relations between Belarus and the West prior to the presidential election. Alexander Lukashenko made the statement during an open dialogue with mass media on "As far as the attitude of Europe and America towards Belarus in view of our stance on Ukrainian problems is concerned, I cannot say that I am not interested in the matter. Certainly, I see what is going on in our Western partners in view of our stance. But I don't revel in it, in the fact that this turn of events has helped us. I don't think like that. And it is not the way I think about other matters. First of all, I don't trust Western partners a lot. It is politics. Today the stance of Belarus is advantageous for the West and they will thank us for some matters. We hear them but not more than that", noted the head of state.
"Moreover, I am a pragmatist and understand perfectly well: there will be no major shifts in relations of Europe, America and Belarus prior to the presidential election. I am okay with that", said the President. "It is not a problem for us if it is not a problem for Europeans and Americans either. The only thing I would like is for Europe, which is not exactly a lot worried by the crisis because it is taking place somewhere else, for the United States of America, which is far from this crisis, and for Russia, which is in the thick of the crisis, and for Belarus, which is not on the sidelines and it is possible that these events may spread onto the territory of both Belarus and Russia, I would like all of us to unite to do our utmost to stop the war".
The head of state expressed confidence that the meeting with journalists will focus on many topical issues. According to the President, the year 2014 was full of events and victories of Belarusian athletes, including their stunning performance at the Olympic Games in Sochi. Important achievements also include the successful IIHF Ice Hockey World Championship in Minsk. It was the best world ice hockey championship ever, according to foreign partners.
Belarusian farmers gathered the record high harvest for the first time in history of sovereign Belarus. He stressed that the year 2014 was not only the Year of Hospitality in Belarus. It was also the year of remembrance, patriotism, the celebration of the 70th anniversary of Belarus' liberation from the Nazi invasion. "A lot has been said about this issue recently. Today we will discuss it in detail", the head of state said.
Unfortunately, the year of 2014 was marked by the escalation of the international tensions not only in the neighboring Ukraine but also in many parts of our planet. Nevertheless, the tragedy of the fraternal people made us reflect once again on how it is important to have peace, calm and order, Alexander Lukashenko underlined.
He noted that Belarus, Russia and Ukraine have close historical, cultural and economic ties. It is impossible to break these ties. I would like to see the 70th anniversary of Great Victory this year to become a reminder for our peoples that only together, shoulder to shoulder, we can survive through tough times and resist any, most terrible threats, the Belarusian leader noted.
Fear of Maidan
Those who think that a maidan-type revolution can happen in Belarus should get this idea out of their heads, Alexander Lukashenko said.
"If someone has this crazy idea that maidan can or will happen in Belarus, the earlier he gets this out of his head, the better. Maidan will never happen in Belarus", the head of state stressed.
Alexander Lukashenko noted that as the President of Belarus he has enough powers and authority to stop a fratricidal war. "Nobody – neither you, or me, or anyone of those who are listening to us – needs another maidan. Indeed, there are some thugs. But this is what the authorities are there for: to neutralize them and prevent them from shooting at each other. We will not let anyone to wage war in Belarus", the Belarusian leader emphasized.
Foreign lands is not necessary
Belarus does not need other territories, Alexander Lukashenko said.
"Belarus does not need other lands. We just want to keep our territory. We have built a state on this land and we want our children and grandchildren to live here. This is my biggest dream. When they started bothering me with questions about Putin coming and seizing part of our territory, I responded jokingly that we have more grounds to claim Russia's lands. However, in fact we do not claim any other territories", Alexander Lukashenko said commenting on his statement about claiming part of Russia's territory.
The President noted that Belarusians have developed great relations with Smolensk residents and other people living in the border areas. "We help each other. Belarusians harvest grain crops there; they give us fuel in return. One does not feel the border between the two states. What else would we want? Do we want any issues? We have great relations with these regions and will always have", - the Belarusian head of state noted.
Alexander Lukashenko believes that only an idiot can claim part of the territory of a powerful country like Russia. "It is impossible. One needs to calm down and realize that it was just a joke. However, if someone after me is crazy enough to cherish such plans, the Belarusian people will not let him do it", the Belarusian leader said.
Question of language solved once and for all
The Belarusian system of education needs order rather than reforms, Alexander Lukashenko said.
"We should stop with reforms. Instead we should put our system of education in order. University and school teachers should be freed from the responsibilities that lie beyond their competence. Let them teach and educate our children. Why do they have to prepare any political, economic, and financial reports?" Alexander Lukashenko wondered.
The head of state also touched upon the use of the Belarusian language in the process of education. "Do not make teachers use a particular language at work. Today we have enough classes of Belarusian at schools. I have already told you: once I saw that children in the fourth grade have five classes of English and three or four of Belarusian. Why is that? So classes of the Belarusian language have been added", he explained.
Blackmail the Kremlin
The Eurasian Economic Union needs to promote the practice of supranational bodies, Alexander Lukashenko said.
"We have no experience yet. We are not mentally prepared to have a supranational body to which we relinquish some authorities to take decisions on certain issues for us. However, this is a developmental disease because we are still too young and still have too different interests", Alexander Lukashenko said. In his words, Belarus, as a country presiding in the EEU, will do its best to promote these supranational principles.
"We have just embarked on the project. Of course we will face issues. Just imagine a huge Russia that should transfer, the same as Belarus and Kazakhstan, part of powers to some supranational body. The amount of these powers should be equal to those Belarus and Kazakhstan give", Alexander Lukashenko said. At the same time the President stated that still there are officials in the EEU member states that would like to take decisions independently. "We need a transition period to work out new approaches and areas, set up the corresponding bodies", the President said.
In this respect the head of state reminded reporters of the recent bans imposed on the Belarusian supplies to the Russian market. "Who has introduced these restrictions? Rosselkhoznadzor, a Dankvert. By what right have they imposed these bans? We consider it is necessary to have a common body or a laboratory to give an independent opinion on the compliance or incompliance with the standards", Alexander Lukashenko said. In his words, the first steps have already been made to form the bodies that should be vested with certain powers.
Statkevich is not a politician for me, I swear by my children
The dictator stated he did not intend to free the former presidential contender Mikalai Statkevich.
"Statkevich is not a politician for me. I swear by my children. One does not need to reproach me he is my political competitor. Well, he went out at the elections", Lukashenka declared on Thursday at the press conference in Minsk.
"Is there anything people remember about Statkevich? I cannot remember any creative part of his campaign. Do not make of him a significant figure", he continued.
Lukashenka stressed that "we have both all the records and shots when he attacked". "This is a crime in any country. Okay, never mind. One does not need to say he is a political prisoner. He committed a crime", the dictator said.
"A law is a law. Releasing Statkevich, I will have to give a pardon for a half of colony then", he stated.
I tend more and more to execute criminals for murder
The Belarusian ruler stands for capital punishment for brutal murders, Interfax reports.
"I tend more and more to execute criminals for a murder. It may happen that someone killed a person accidentally or something like that. But do you have the right to live if you intentionally killed innocent people?" Lukashenka said at the press conference in Minsk on Thursday.
"If we speak about such murders when a criminal kills a person, dismembers the body with his mother, cut the body into pieces and buries it, he must be executed. This rascal must be executed. No forgiveness", he stressed.
The case of murdering Yulia Salamatsina, 19, is being heard in Minsk. A young man from Minsk and his mother are in the dock. Salamatsina got acquainted with the man on a social network website. She came to his home and was killed. The man and his mother, trying to hide traces of the murder, dismembered the girl's body and buried it in a forest. The verdict has not been pronounced yet.
You can make a joke that someone die
I have never fallen victim to hoax calls, President of Belarus Alexander Lukashenko said.
"Unknown people will never be put through to the President until it is established who is calling and on what matter. Especially if the call is from outside the country. This is how things are. Probably, someone tried to do such a hoax but I have not played this game", said Alexander Lukashenko.
The Belarusian leader noted that he never plays jokes on people. He said he may tease people but only in a private setting. "The President cannot play jokes in the public eye. A President's joke, especially a harsh one, can cost people dearly. I just do not have the right to do such things because of my position and my character", stressed the head of state.
The President can not participate in the elections because of dementia, dullness and disease
Alexander Lukashenko stated that he had no right to abandon the presidency unless people decide otherwise. The head of state also stressed that losing the presidential race would be painful but not dramatic for him, BelTA informs.
"I will not go. I have no such right. I have already explained: if the country collapses and you see me go, I will be accused of cowardice. I will have to answer for it", the head of state said. "I am a politician. I should fight in accordance with the rules of politics. I have certain knowledge and experience. It is hard to incriminate me of something, or attack me on something", he added.
"The President can not participate in the elections because of dementia, dullness and disease. I have no right to withdraw my candidacy or not to run if I have no reasons against it. If I am safe and sound in 2015, perhaps you will see me among the candidates for the presidency", the President added.
Lukashenka to Ukrainians: Crimea is not your land
The Belarusian dictator does not understand "why Russia is being pecked" by other countries over this issue.
Lukashenka believes that Russia is too busy to unleash a conflict with Belarus.
"Russia is too busy for that [starting a conflict with Belarus] now. Get these ugly thoughts out of your head," Lukashenka said on Thursday at the press-conference in Minsk, Interfax reports.
The ruler has stressed that statements of some politicians that after Crimea Russia's president Vladimir Putin will go to Belarus to wage a war, are totally unfounded.
"Could it be possible that we, Russians, are going to fight with Russians? I cannot imagine that at all," Lukashenka observed.
Continuing the topic of Crimea, he noted that he does not understand why Russia is being "pecked" for it. "Is Russia guilty of it? Probably, yes to a certain extent… My position on Crimea is well-known," the president said. "If it is your (Ukrainian – "Interfax") land, you should have been fighting for it. As you have not been fighting, it is not your land," the Belarusian leader added.
Lukashenka insists DNR and LNR should hold sittings in Minsk
The dictator stresses the importance of maintaining Minsk format of the talks on peaceful settlement of the conflict in eastern Ukraine, and notes that abandonment of this format would result in erosion of Minsk agreements.
"If there would be no Minsk format, there would be no Minsk agreements," Lukashenka stated.
The dictator stressed that recently the parties departed from the Minsk accord. "It is very bad that the Minsk agreements have been departed from. If they [the parties of the conflict] have been implementing the Minsk agreements, there would already be peace somehow," the Belarusian ruler emphasized.
Besides, he stressed that if the Minsk format of negotiations is changed, then "everything would have to be started from square one."
"The Minsk format, I am convinced, will be in demand in the near future," he added. "There is no other format, and it is harmful to begin reformatting," the dictator said.
According to him, in order to stop the conflict in eastern Ukraine, a desire of the leaders of the involved parties is necessary. "If there is a desire, it could be done [stop the conflict]. The desire of the immediate leaders of the states and these republics (LNR and DNR – Interfax), who are involved in the conflict, is needed," he said.
"95% of agreements exit. And 5% is left – to overcome any divisions. Go on, give up the ambitions, sit down to talk and agree on peace," Lukashenka continued.
"Come to Minsk at any level, I am ready to participate in that, to bring tea, pens and pencils to you, and so on. So overcome these 5%," the dictator noted.