Sviatlana Alexievich: Putin Creates Orthodox Caliphate
13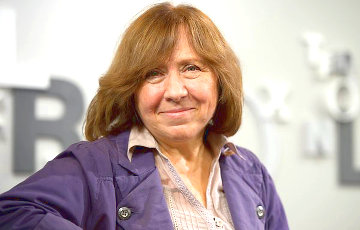 Vladimir Putin considers himself a tsar, as well as religious and political figure.
Belarusian writer Sviatlana Alexievich in her interview to La Vanguardia reminds that all Russian Nobel Prize winner for Literature have raised discontent in our society," Инопресса.ру reports. "The same thing happens to me. It is written that it's been a political decision. I am the winner, because I oppose Putin. Of course, I do not support this person. Russia under his control runs the same aggressive politics as it used to be in the USSR that goes against European and democratic values," Sviatlana Alexievich notes. As for Aliaksandr Lukashenka, he "does not need a Nobel Prize winner, he is the absolute monarch and the only one who should shine."
In her speech at the prize awarding ceremony Alexievich wants to tell about her life. "To write about the Red Empire, to tell the way people felt like small pieces of it. Small people had no weight, they were used, nobody was interested in them. I had to do it (to write) usually for the first time. I'd like to quote Shalamov, who passed through Gulag and saw "a great battle for a new person." When I was young I believed in the USSR. But the only trace of the Bolsheviks is pools of blood. I write about it," she said.
Answering the question on people's come-back to the Church, Alexievich noted that "it's one thing when it happened after Chernobyl or split of communism. We searched for a new faith; we used to be atheists and needed something to lean on." "But people in Russia now go to Orthodox churches because of propaganda mixed with politics and religion," the writer says, noting that the Putin regime has replaced faith with propaganda. According to her, "the authorities want to establish an Orthodox caliphate", and Putin "believes he is the tsar, as well as religious and political figure," the newspaper writes.
It should be reminded that on October 8 it became known that Sviatlana Alexievich had become a Nobel Prize Winner for Literature - 2014. The Award was broadcasted live on an official Nobel Prize web-site.
Works of Sviatlana Alexievich are in fact prohibited and were hardly published in Belarus. The writer had to leave the country because of a conflict with the government.