Belarusian authorities want to completely block independent websites
147
25.02.2015, 11:06

127,234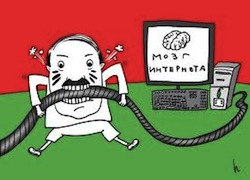 The Ministry of Communication is going to block all tools of anonymity on the Internet, including anonymisers, proxy servers and the Tor project.
The blockage will hit not only prohibited websites but also anonymisers and networks like Tor that allow accessing blocked sites, Nasha Niva reports.
In accordance with the ruling of the Operative and Analytical Centre of February 19, the State Inspection for Telecommunication at the Ministry of Communication will block access to proxy servers and anonymous networks like Tor. The ruling came into force on the day of its official publication.
The ruling sets procedures to restrict access to the websites:
– which owners have received two or more written warnings from the Ministry of Information during a year,
– that contain information about the illegal traffic of drugs or other prohibited information,
– which owners have failed to fulfill the requirements of the government body regarding the violation of laws on mass media.
The State Inspection for Telecommunication will make the blacklist by the decision of the Ministry of Information. Only government bodies and Internet service providers will have access to banned websites. From now on, a proposal to put a website on the blacklist can made both a government bodies and any citizen.
The access to the website included in the blacklist will be restricted within 24 hours. ISPs must appoint employees who will be responsible for the usage of blocking tools and daily analysis of the blacklist.
If means of access to blacklisted sites are found, the state inspection will add their identifiers to the blacklist. The ruling complies with the course chosen by the "house of representatives": the anti-drug decree that allows blocking websites with prohibited content and the law on the media that allows blocking mass media and classifies any website as a media outlet were signed in 2014.
Under the new ruling, Belarus may block not only anonymisers and Tor but also Opera and Yandex.Browser that allow accessing almost any website in the traffic compression mode. Technically, special versions of these browsers without "prohibited" features can be created for Belarus.
The mechanism of blocking Tor has not been worked out: it it technically possible to block every nod, but it is hard to block the entire network at the ISP level.
The website charter97.org and a number of other independent websites were blocked for all users in Belarus on December 19, 2014, without giving any reasons.