Ales Makaeu: Authorities want market traders to return to work promptly
47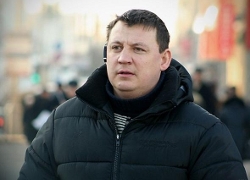 The website of the Ministry of Taxation has published information about amendments to Decree No.222: a higher tax for those who sell goods without accompanying documents.
The leader of the Coordination Council of Sole Traders of Minsk Ales Makaeu explained to charter97.org what does the publication at the official website of the Ministry of Taxation means. It informs that amendments are to be made to Decree No.222, and according to them the single tax for market traders is to be increased, but they would be able to carry on trade in the way it used to be, without certificates and special accompanying documents. However, it is unknown how high the new taxes are going to be and whether this publication protects market traders from inspection raids and confiscations.
- The old basic rate of tax for the most popular group of goods (clothes) was Br520,000. Sole traders paid two rates for selling foreign-made clothes and two rates as a value added tax. That is, Br520,000 taken four times. The total sum is Br2 mln 80 thousand. In March this rate was raised a little and became equal to Br600,000. And when the Decree No.222 came into force, sole traders were obliged to have appropriate certificates and delivery notes. The authorities didn't tell anything about the new multiplying factor, and no one knew how high it would be, – Makaeu said.
- And what sum it could be in theory?
- We do not know what multiplying factor would be chosen for the tax by authorities. There are several variants. In theory it was said that a new multiplying factor would be 6, that is, considering the new rate, the total sum is to be Br3 mln 600. When there was a meeting of market traders in "Mir mody" shopping centre in Zhdanovichy, people said categorically that is would be impossible for them to pay such rates. And these sums are certainly discussed without associations of sole traders and experts. It is very bad.
- But on March 1 people were persuaded and asked to return to work, and they refused, as no documents printed on paper were provided by the authorities.
- Self-employed businessmen gathered near district executive committees, and they were said to pay taxes and continue work as usual. But they refused to work without an official paper. They asked any kind of document signed by authorities, that they take responsibility for sole traders' returning to work.
As before, there is nothing in hard copy still, only on the website of the Ministry. This explanation is said to be official. It would be good to consult legal professionals and find out whether this publication has a legal force and could it defend sole traders from inspections and seizures of goods.
- What is the reaction of businessmen?
- Some of sole traders already say that it's a little victory. People asked a document from the authorities, and they were given one.
- Can the situation get even worse with such a harsh taxation?
- These new "swirls" do not promise any good. Now the trade at consumer goods marketplaces is very depressed. So they do not have profits high enough to pay even higher taxes. On the contrary, taxes should be reduced, not raised. Among other things, we are going through a crisis at the moment. And under the new conditions the trade is going to become completely unprofitable.
- What the government wants to achieve?
- It is done to make people return to work today, to pay taxes, pay rent. That's because most marketplaces are empty for today. Even yesterday the authorities were unwilling to make .concessions. And today such a publication has emerged. Anyway that's something.
- Is it so difficult for the authorities to create a dialogue and to make everything in a civilized way from the start?
- It's a pity there is no coordination centre for self-employed businessmen in Belarus, which would make it possible for them to discuss these moves of the government with experts in online regime, in the press. On the other hand, the authorities may play a trick: they will give a grace period for Decree No.222 for one month, tomorrow they will sign amendments to the Decree, and possibly, make sole traders pay increased tax after the fact. It would be very unpleasant. We do not know what will happen. Those people who work in accordance with the simplified tax scheme, 20%, would not be asked to pay these taxes, but others would be required to pay.
We remind that a Forum of Entrepreneurs took place in Belarus recently. The authorities shot down the hope of small businessmen that the conflict would be resolved and their opinion would be taken into account: on March 1 the notorious Decree No.222 came into force, and it makes it illegal to sell goods without accompanying documents. In case of violations sole traders are to be fined Br9 mln, and their goods are to be confiscated.
Over the last few months mass unscheduled inspections and confiscations were held.
On March 1 market traders simply didn't come to work. This, the largest consumer goods market places were empty in Minsk and in other parts of the country. Half of sole traders explained their absence by "a leave". Many of them were not working as they "had gone to purchase new goods." Some of them openly announced that they pause their work until all terms of work are cleared up.