Alyaksandr Dabravolski: Delegation of European Parliament must meet with political prisoners
1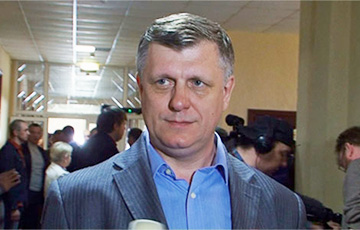 It is the only thing that could be done as a symbol that human rights in Belarus had not been sacrificed for the sake of politics.
Such an opinion has been expressed to charter97.org website by Alyaksandr Dabravolski, a Belarusian politician, Director of the European school of political studies, who commented on the visit of the delegation of the European Parliament to our country, which is planned for June 18-19.
- On June 18-19 the delegation of the European Parliament is to visit Belarus. How would you comment on this event?
- Recently a so-called "unfreezing of contacts" between the European structures and Belarus is taking place. Maybe, it is not bad, but for me it doesn't seem right that there is no progress in the sphere of human rights and release of political prisoners. No mending of relations could happen at the expense of ignoring European values. Otherwise it would mean that European structures are simply losing in their relations with Belarus: they have not achieved what they had demanded, but they capitulated.
- What practical moves should be made by the delegation of the European Parliament, to your mind, to show that they have not "capitulated" as far as matters of principal are concerned?
- I think that, for example, they should demand a meeting with Mikalai Statkevich and other political prisoners. It is the only thing could be done as a symbol that human rights and democratic values have not been sacrificed for the sake of politics. And speaking about more serious influence, a clear question should be posed: while resuming relations with Europe, does the Belarusian government intend to use normal control means, and not to pressurize its opponents? And to offer sharing experience of democratic administration. I think that the Belarusian government in its essence cannot rule by normal means, however, it should be discussed, and it should be demanded.
- And to your mind, what message should be got across by the delegation to oppositionists and human rights organisations of Belarus?
- The only one that should be conveyed is that "unfreezing" of relations with the Belarusian regime has an opportunistic nature. It is caused exclusively by the conflict between Russia and Ukraine, and Europe is concerned by the security in our region. In this way European politicians could explain why they are present here, despite the fact that the Belarusian side had not fulfilled their conditions related to respect to human rights. Any other explanation would be untrue.
- And should representatives of the civil society of Belarus themselves take any consolidated stand on human rights issues and on political issues during this visit, to our mind?
- I believe that representatives of the civil society should tell about the things happening in Belarus as fully possible. And to stress that they are expecting solidarity and support from Europe. But they already know about that. It seems to me that the main thing is for representatives of the civil society of Belarus to understand that the more different messages are addressed by them to Europeans, the worse understanding of these messages will be. It is better to formulate one clear message, and it's all right that it could be a little weaker than 5 different ones, but in such a case the chances are better for it to be heard… It also concerns home political issues, for example, the upcoming presidential "election". Unfortunately, they have no consolidated position on the election. And two main reasons explain that. Firstly, there are various tactics, various approaches to the questions of struggle against the regime and fight for public renown. And these positions are hard to be united. But in actual fact, they could have been reconciled, but there is one more important reason: unfortunately, special-service agents have infiltrated opposition, and I think that there are those who have a concrete mission – to prevent any fact of consolidation, including the one on the issue of elections.
We remind that the delegation of the European Parliament headed by the chairman of the Delegation for relations with Belarus, Bogdan Zdrojewski, is to come on a two day visit to Minsk on June 18-19.
The Delegation of the European Parliament for relations with Belarus plans to meet with families of political prisoners, representatives of opposition and civil society, and to meet with representatives of official Minsk.
It is another attempt of MEPs to visit Belarus. The previous ones, when the delegation was presided by Jacek Protasiewicz, and later Filip Kaczmarek, were unsuccessful.