Political prisoner Dzyadok kept in punishment isolation cell despite being wounded
1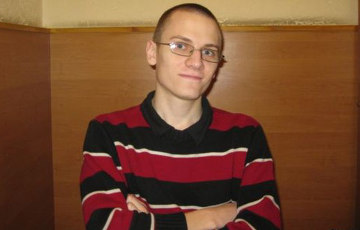 Despite the fact that the political prisoner wounded himself, he was left in the punishment isolation cell, after minimal medical assistance was provided to him.
Most likely, either punishment term was prolonged to him, or a new one was imposed. It was said in an interview to charter97.org website by Valeryja Khotsina, the wife of the political prisoner Mikalai Dzyadok.
- Did you talk to Mikalai after he had to cut his abdomen and arms in the punishment isolation cell of the penal colony in Horki? How does he feel?
- So far no contact is possible for us, as we do not receive any letters from Mikalai at all, and as far as I understand, he does not receive letters either. Since he was transferred to Horki, we received only one letter, dated by May 19, in which he informed that he had just left the punishment isolation cell, and was to return there again. His lawyer visited him on May 26, and it was his last day in the punishment isolation cell. As long as there is no news from him, we think that either the punishment term was extended for him, or the new one was imposed. The lawyer plans to visit him on June 8 or 9, and then we hope to receive at least any information from him.
- That is, despite his wounds, punishment could have been harshened to him?
- He was left in the punishment isolation cell, despite his wounds. It happened on May 20 overnight, and until May 26 he was left in the same cold punishment isolation cell, from which he demanded to move him. No actions were taken, only a doctor visited him twice a day to do a dressing.
- What legal evaluation could be given to this episode? Have you addressed human rights watchdogs?
- We are maintaining a permanent contact with Belarusian human rights organisations. We also addressed the Belarusian documentary centre, in connection with initiating of the new case and transfer to the penal colony in Horki. Human rights violations, violation of the norms of prisoners' welfare and incitement to self-injury are obvious here. But all that would be difficult to challenge in Belarus. The materials should be sent to the UN Committee on Human Rights, but I do not have illusions that it could happen soon and that it would be possible to change the situation of Mikalai soon.
- Do you pin any hopes on the visit of the Delegation of the European Parliament to Minsk, planned for June 18 and their desire to meet with relatives of political prisoners?
- I have heard about that, but I have not received any invitations. Possibly, they contacted Mikalai's father, but I do not know about that yet. But in general, it seems to me that the Belarusian authorities would simply deny complying with this request.
- What is your general assessment of the European Union's stand on the problem of political prisoners in Belarus, in the context of more frequent contacts of European politicians with the Belarusian regime?
- I certainly do not like the so-called "thaw" in the relations between the EU and Belarus. But I understand that it's the world of politics, and even demagogy. When the sanctions against the Belarusian government were imposed, they were imposed not only with a demand to release political prisoners, but with recognition that Alyaksandr Lukashenka's power is illegitimate. If we recall the year 2010, the year 2006 – every time EU politicians urged not only to release political prisoners, but to review the results of the "vote", and hold democratic, open election. 5 years since the last election have passed, and this demand is simply discarded now – as the core problem is absence of a legitimately elected president, so there is no law in the country, and political prisoners are kept behind the bars – and European politicians simply do not recall and talk about it. And it happens that the Belarusian political prisoners, officially recognized by Amnesty International, are merely a "hindrance" to European deputies in their communicating with Lukashenka trouble-free. For me it's a sign that, most regrettably, political prisoners are becoming a bargaining chip for the both sides. I am not a politician and I do not know how concessions could be received from the dictator, but for today it could be said that over the 5 years no progress has been achieved regarding political prisoners. On the contrary, pressure and crackdown are stepped up, and I do not see any response except for empty statements.
We remind that on May 27, 2011 an activist of anarchist movement Mikalai Dzyadok was sentenced by the court of Zavadski district of Minsk under Article 339 Part 2 of the Criminal Code (malicious hooliganism) to 4.5 years of imprisonment in the conditions of a reinforced regime. He pleaded not guilty and refused to sign a petition for pardon.
In November 2014 a new criminal case was opened against him for "violation of the regime of serving the sentence". On February 26, 5 days before the term was to expire, the court of Leninski district of Mahilyou sentenced Mikalai Dzyadok to 1 years of imprisonment in the maximum security penal colony under Article 411 of the Criminal Code.