Mikalai Dziadok and his cellmate held in 5 sq. m. cell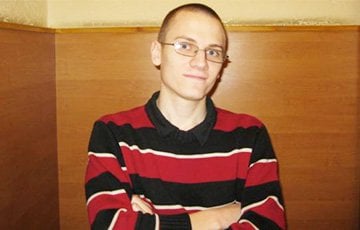 Mikalai Dziadok was transferred to a cell-type unit for six months after 42 days in a punishment cell.
Aliaksandr Dziadok, the activist's father learnt it from Mikalai's letter, Radio Svaboda reports.
"He sent letters to relatives, also to me. He is now in the cell-type unit. He was transferred there on June 30 for 6 months. Another inmate was placed in his cell. The cell is very small – 5 square metres. He says he is fine, but I don't know how he really is. The lawyer will visit him next week, so we will learn details," Aliaksandr Dziadok says.
The lawyer has been denied access to Mikalai Dziadok two times lately. On June 15, prison officers interrupted their conversation 15 minutes after the start and promised that they could talk after lunch. The promise wasn't fulfilled. A week later, they didn't allow visiting Dziadok because he allegedly hadn't applied for a meeting. The lawyer filed complains in connection with the incidents.
"They said everything was right. As for the first incident, they said the conversation wasn't continued because Dziadok had already talked to the lawyer for an hour. But it wasn't an hour. It was only 15 minutes. What concerns the second incident, they insist that Mikalai didn't apply for a meeting at all. But we know exactly he filed the application. They lie to us and put pressure on him. I don't think pressure will stop, but we will react to it. We will appeal to all bodies possible if Mikalai's rights are violated," the father of the political prisoner says.
Mikalai Dziadok calculated in his letter that he had spent 42 days in the punishment cell in May and June. He received 31 letters after being released from there.
Mikalai Dziadok has served 4.5 years of imprisonment allegedly for damaging official buildings. He was to be released on March 3, 2015, but Mahilou' Leninski district court found him guilty of violating article 411 of the Criminal Code (failure to obey orders of prison officers) and sentenced him on February 26 to an additional year in a maximum security correctional facility. The cassation court upheld the verdict on April 30.