Maryna Adamovich: Glad to know Statkevich not to run this circus
6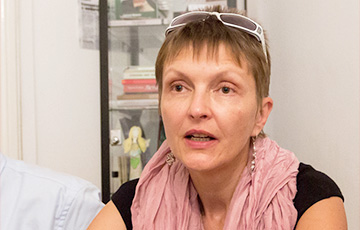 Meanwhile, the wife of political prisoner intends to appeal against the CEC's decision on denial to register an initiative group.
Maryna Adamovich informed journalists, BelaPAN reports.
Representatives of Mikalai Statkevich's initiative group said that the CEC failed to explain violations of the initiative group. According to Adamovich, a conviction is not an obstacle for initiative group registration. "If you deny the registration, you are criminals", poet Uladzimir Nyaklyayew said.
I am glad to know that Statkevich will not run this circus. We expected that, but I had hopes that the group would be registered", Adamovich said and added that the decision would be appealed to the Supreme Court within three days.
Representatives of the Central Electoral Commission repeatedly stated that Statkevich's initiative group did not have chances to pass the registration. According to Article 60 of the Electoral Code "citizens with a conviction cannot be nominated as the candidates for the presidency of the Republic of Belarus".