Siarhei Skrabets: Mikalai Statkevich is tortured in prison
10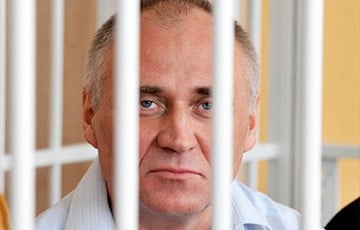 The political prisoner is held in solitary confinement without light and fresh air.
The statement was made by Siarhei Skrabets, the secretary of the Belarusian Social Democratic Party, at a press conference in Minsk, Radio Racyja reports.
"Mikalai Statkevich is not just held in prison. He is being tortured. He is held in solitary confinement without light, fresh air and access to information. It has been continuing for more than three years," he said.
Siarhei Skrabets is indignant over the actions by some representatives of the European Union, who, he thinks, try to legitimise Lukashenka and do not notice the problem of political prisoners.
"What will EU politicians explain to their voters in Germany or in France? Will they say that the politicians who run in the elections must be held in prison and wait for new elections?" he says.
Mikalai Statkevich is the only candidate in the 2010 presidential elections who is still in prison. He was sentenced to 6 years of imprisonment in May 2011 for organising mass disorders on the election day. International human rights organisations recognised Statkevich as a political prisoner.
The politician began to serve his term in correctional facility No.17 in Shklou, but was transferred to stricter prison No.4 in Mahilou for three years in January 2012. Statkevich returned to Shklou on 12 January 2015 and got two warnings for violating prison rules in the first two days. The politician may face a new prison term.
Mikalai Statkevich was tried in correctional facility No.17 on May 4. He was sent to a prison for the rest of his term (1 year, 7 months and 15 days). The politician was transferred to prison No.4 in Mahilou on May 6.