Lukashenka recognizes Statkevich as a hostage
38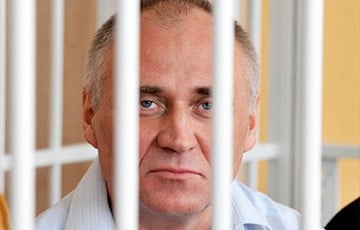 De facto, the release of political prisoners depends on recognition of the "elections".
Aliaksandr Lukashenka stated that while answering questions of Radio Svaboda and tut.by. According to the ruler, the issue about the former presidential candidate is on agenda.
"I won't be a sly, the issue is on agenda. I am the only one who can resolve it. But I cannot say when it happens. I have not considered the issue from this point. - It to release him, it should be done before the elections. - If it is a no, let it be so. Soon you will be informed. Otherwise, it will take much time", he stated.
Meanwhile, Lukashenka mentioned that Statkevich has a possibility to write a petition for pardon.
"He wants to stay in prison and be a hero. I grant the opportunity, but you tell me to release him. What should I do? I can release a person, if he writes a petition for pardon. But he refuses. He wants to be a hero", the dictator said.
It should be reminded that Mikalai Statkevich was sentenced to 6 years in high-security prison for organization of mass disorders in 2010. International human rights organization Amnesty International recognized Statkevich as prisoner of conscience. The European Union and the USA are insisting on the release of the opposition politician.
Mikalai Statkevich is the only candidate for the Presidency in 2010 who is still imprisoned. In May 2011, Statkevich was sentenced to six years in prison for organizing mass disorder on the day of presidential elections. International human rights organizations recognized Statkevich as a political prisoner.
The opposition politician initially served his term in Shklou colony No. 17, but in January 2012, confinement conditions were tightened and he was sent to Mahileu prison No. 4 for three years. After the term expiration on January 12 of the current year, the politician was back to the Shklou colony and where he was drawn up 2 protocols within first two days on violation of regulations.
On May 4 it was decided to transfer Mikalai Statkevich from Shklou colony No. 17 to prison until the end of the sentence (1 year, 7 months, 15 days). And on May 6 the politician was transferred to the prison No.4 in Mahileu.