Yury Rubtsou held incommunicado in temporary detention facility
1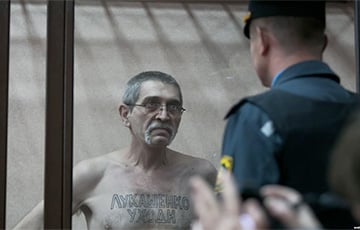 The political prisoner didn't receive numerous birthday greetings. He also cannot send letters.
Yadviha Rubtsova, the wife of political prisoner Yury Rubtsou, visited him in temporary detention facility No.6 in Baranavichy and talked to him for two hours on August 1.
Yadviha Rubtsova told details to charter97.org.
– We couldn't discuss many things, because jail officers listen to all conversations. Yury looks a bit better. He is recovering after the hunger strike. He complained about problems with a leg. He doesn't receive any special medical aid. He is only allowed to take stomach ulcer medications that I send him. I had to collect a package of certificates to pass them to him. I cannot say if they will allow giving him drugs for the leg.
– Yury recently marked his 54th birthday.
– I know that many people congratulated him, but the jail staff didn't give any letters to Yury. He only received a telegram from me. It happens to all letters people send him. Letters from Yury are not delivered.
Yury Rubtsou, 53, was sentenced by Minsk's Tsentralny district court to 2.5 years in an open-type correctional facility on October 6, 2014. The term was reduced by one year due to the amnesty.
Rubtsou was charged with insulting judge Kiryl Palulekh from the Savetski district court, who heard his case in connection with the Chernobyl Road rally on April 28, 2014, in Minsk (article 391 of the Criminal Code).
Yury Rubtsou had his chest tattooed with the slogan "Lukashenka, go away" when he was in the open-type correctional facility in the village of Kuplin (Pruzhany district).
The activist refused to work due to low wages in the correctional facility. Rubtsou demanded a job with the declared average wages of $600 in ruble equivalent. It was the ground for opening a new criminal case against him.
Mikalia Repikha, a judge of the Pruzhany district court, sentenced the activist to 2 years in a medium security correctional facility on May 28.
Yury Rubtsou is held in temporary detention facility No.6 in Baranavichy, waiting for his appeal to be considered.
Opposition and human rights defenders in Belarus and abroad recognised the activist from Homel as a political prisoner and demand his release.