Nyaklyaeu is asked to offer explanations about picket near GUM store
5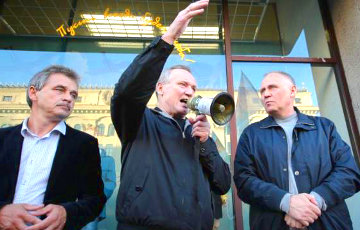 The politician received a phone call from police and asked to offer explanation concerning his participation in the picket for free elections, held near the State department store (GUM) on September 10.
The poet, presidential candidate in the election – 2010 has written about that on his Facebook page.
"I received a call from police, and I was strongly advised to visit them and provide explanations concerning participation in the picket on September 10. To make a decision, there is the Constitution of the Republic of Belarus, which – even in its present form, shaped by the Belarusian regime – grants me, as well as any citizen of Belarus, a right to express my civil position freely," he wrote.
"During election campaigns this right is additionally confirmed by Article 45 of the Electoral Code. Those "law enforcers", who had deprived me, and all citizens of Belarus, of this right, do not allow exercising it, and they are number one law violators. Being guided by bylaws, decrees, orders, instructions, they are not serving to the law, but to lawlessness. That's all my explanation," the politician emphasized.
We remind that on September 10 near the State Department Store in Minsk a picket for free election was held. It was organised by a political prisoner Mikalai Statkevich. On the rally, visited by more than 200 persons, Belarusians were urged to ignore the "elections."