Picket in central Minsk consecrated to the memory of Viktar Hanchar and Anatoly Krasouski
8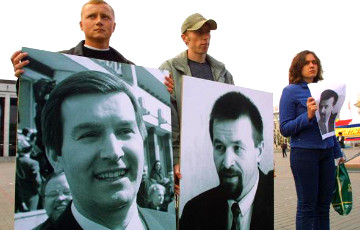 The rally dedicated to the 16th anniversary of abduction of Viktar Hanchar and Anatoly Krasouski was held in front of the State department store (GUM) in Minsk.
The picket was organised by Anatoly Lyabedzka and the United Civil Party. They had not filed an application for holding the rally, Radio Svaboda informs.
The rally started at 6 p.m. Participants of the picket unfurled white-red-white flags, as well as flags of the United Civil Party and European Belarus civil campaign.
From the very beginning of the rally policemen were taking video of the event. After a while one of them came up to Anatoly Lyabedzka and started to draw up a report for holding "an unsanctioned rally." The politician refused to sign it.
The rally finished at 7 p.m.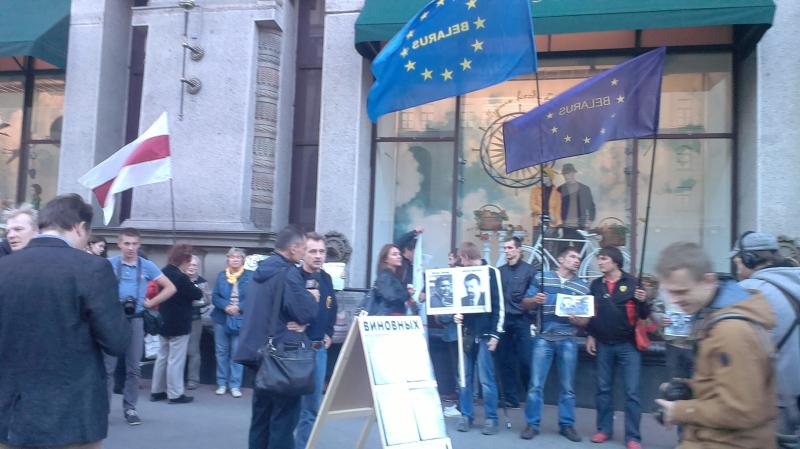 16 years ago an oppositional politician Viktar Hanchar and a businessman Anatoly Krasouksi disappeared in central Minsk under unclear circumstances.
On September 16, 1999 in the evening Hanchar, who initially was a member of Alyaksandr Lukashenka's team, and helped him to come to power, and then joined opposition, and his friend, visited the public bath house in Minsk in Fabrychnaya Street, 20. Last time they were seen at about 10.35 p.m., when they both left the building and got into Jeep Cherokee which belonged to Krasouski.