Russian-Belarusian Border Closed For Foreigners, Media Informs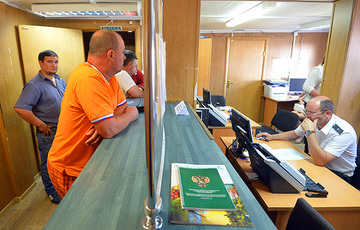 Border crossing point (Moscow - Minsk direction) refused to let foreign citizens coming through Belarus in Russia.
The press secretary of the Russian Union of Travel Industry Irina Tyurina said that the checkpoint Krasnaya Gorka on the border with Russia and Belarus was closed to foreigners and "unlikely to be opened"
RBK informs referring to Interfax.
"At the meeting in the Ministry of Culture with participation of representatives of the Russian Foreign Ministry, the border service, the FSB, the Ministry of Transport, the guards it was reported that the checkpoint Krasnaya Gorka near Smolensk was designed only for travel of citizens of Russia and Belarus - two countries are part of the" union" state, there is no border between them. Accordingly, the passing of the checkpoint by citizens of other countries on the train or by car is illegitimate. According to them, the checkpoint for representatives of all third countries is closed and is unlikely to be opened," Tyurina said.
Earlier in September the Polish Embassy in Moscow sent a letter to Russia saying that Russian border guards did not allow the Poles to the country through the border with Belarus.
Then the FSB of Russia said that there were no international crossing points on the Russian-Belarusian border. "Today there are simplified check points only for citizens of Russia and Belarus, so the Russian side could not introduce any additional control at the site of its borders", the source of RIA Novosti told then.