Lukashenka: We Need To Prepare Officers To War
221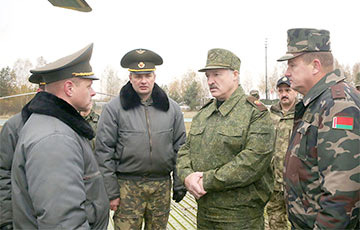 The dictator demanded to change the very approach to training of the military men.
Lukashenka has said this during the evaluation of the level of professional tutorial build-up of the officer personnel of the Armed Forces at the 230th Obuz-Lesnovski combined training range, BelTA informs.
"I admit that such system does exist, but the fact remains we haven't stirred it for a long time and we haven't adjusted it to the modern war. We have problems with the training terms, programs and instructors," — the dictator has noted. — We need the instructors to be the well-trained people, capable of teaching what is really necessary to know at war."
Lukashenka has underlined that it is necessary to always adjust the military training system to the nowadays reality. This concerns not just the military and militarized higher educational establishments, but also the military faculties at civil ones.
"We should set us a group of specialists in the state secretariat and analyze everything — wipe off the programs all the unnecessary information, make the training terms real, take a look at the distant form of studying to decide whether we need it. Officers criticize it," — the dictator has said.
Lukashenka has also paid attention that the system of evaluation of the level of the officers' preparation should also be revised. "The most ultimate mistake is formalism, we should never repeat what happened in the USSR," — the ruler has added. —You should do it the way so that an officer could be evaluated. I am not saying they should be some sort of wiz kids, but I would run, jump, do chin-ups and work out with the soldiers myself, so I know what an officer should be. Make him such a man."
Herein, Lukashenka has underlined the following: "If we throw dust in our own eyes, this is unacceptable. We are not the country where one can just adopt a laissez-faire attitude, raise a helicopter, show a fire — this is not the most important thing. The most important thing is that an officer should be able to teach his subordinates."