Minsk Mass Rallies Tore Up Foundations Of Soviet Power In April 1991
9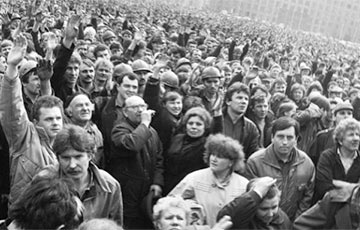 The workers' rallies broke the back of the USSR then.
Previously unknown photographs of mass workers' protests of April 1991 appeared on the archive web site Vytokі.
One can see white-red-white flags on the photos. The march from the Tractor Plant to Lenin Square is captured. Very often the protests of April 1991 are called purely economic, but that does not correspond to the reality. During these protests the issue of de-partisation was brought about, the issue of elimination of the leading role of the Communist Party, which was finally abolished in August 1991, after the failed putsch.
The workers' strike tore up the foundations of the Communist government in April, 1991. According to participant of the events Vasil Leuchankau, "the April strikes broke the back of the CPSU."