Polands Explains Reason For Turning Chechen Migrants Down
16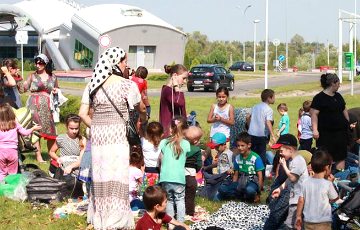 As there is no war in Chechnya now, Poland will not consider applications for refuge.
Poland is not going to yield to the pressure of those who are eager to lead the country to a migration crisis, Minister of the Interior and Administration of Poland Mariusz Błaszczak has said on air on the TVN24 TV-channel.
This is how the politician commented upon the recent events in close proximity to the border crossing point "Brest" at the Belarusian-Polish border, where 200 migrants from Chechnya, outraged by the way the Polish side considered their applications for obtaining a refugee status, organized a protest camp, tut.by reports.
"Our policy is completely different. The Polish border is closed. There is no war in Chechnya at the moment, unlike the previous years, — Mariusz Błaszczak has underlined, — Personally I think that this looks like another attempt to create the new migration route, an inflow of Muslims to Europe. We stand for rendering help to the suffering. We help the people who leave their countries when they are at war, and provide financial support and assistance to refugees in camps".
The politician also reminded that several years ago, when there was war in Chechnya, Poland did accept refugees.
We remind, on Monday, August 29, at about 10 a.m., a jungle camp started growing close to the border crossing point "Brest" . Its tenants were refugees from Chehcnya, who repeatedly crossed the Belarusian-Polish border by train to obtain a refugee status. According to the representatives of the Chechen diaspora, the railway border crossing point in Terespol accepted the applications of 2-3 families daily, out of several hundred contenders, and sent all the others back to Brest on the next train. Many people were running out of money for renting accommodation in Brest and for train tickets, so the jungle camp became a "desperate attempt to turn the attention" of the society to their problems.
According to Brest human rights defender Raman Kisliak, the Chechens who had lived in the camp near the Belarusian-Polish border for two days returned to Brest in the evening on August 30.
"They are still here. They are staying here, planning to try to cross the border. Some even consider applying for a refugee status here. There is no way back for them," — Raman Kisliak commented upon the situation.