Mass Repressions In Belarus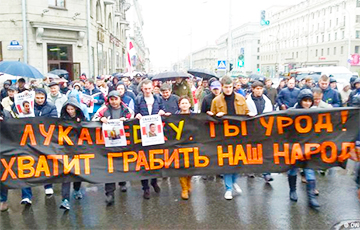 Police detain participants of the Outraged Belarusians' March 2.0.
As it became known to Charter97.org, the activist of the Belarusian National Congress Hreta Sabaleuskaia was arrested last night. She managed to pass an information that she was detained by police officers. Human rights activists and BNC activists still cannot find out where the girl is. Employees of the police department of Dziarzhynsk and Smaliavichy districts, where the police could supposedly take the girl, refused to disclose any information.
Also, activist of the Moladz of BPF Dzmitry Silchanka was detained in the workplace yesterday late in the evening. He was taken to the Minsk district police department, where they drew a report under article 23.34 (violation of the procedure for holding mass events) for participating in the Outraged Belarusians' March 2.0.
This morning, activist of the civil campaign European Belarus Artsiom Charniak was detained near his home in Aliakhnovichy. He managed to report on the phone that he was being taken to the police department of Maladzechna district. It also became known that police officers were trying to break into the house of his brother Dzmitry, who lives in Rakau. Earlier the district police officers called them and demanded that the activists should come to the local police stations. The reason was not reported.
Police officers also visited the well-known director Volha Nikalaichyk this morning, but did not find her at home.
The activist of the civil campaign European Belarus Leanid Kulakou said that police officers came to the hospital, where he was staying due to a leg injury received after one of the administrative arrests. His future fate is unknown.
Let us remind you that yesterday the UN Special Rapporteur on Belarus Miklos Haraszti reported on the situation with human rights in the country at the 72nd session of the UN General Assembly, which was held on October 26 in New York (USA). The UN special rapporteur said that Belarus has started to suppress those who criticize Lukashenka's policy again.
"The Government of Belarus returned this year to mass oppression of those who protested against its policies. In my report last year, I warned how dangerous the lack of any changes in the system of governance in Belarus was. Despite some facade changes in the methods that the authorities use, it still retains the same laws in action.The reasons for the cyclical character of violent crackdowns lie in a governing system which directly depends on the executive branch of the government," – Haraszti noted.