ILO Demands Release Of Ihar Komlik From Belarusian Ambassador In Brussels
2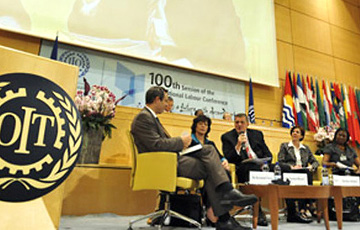 The Belarusian diplomat was handed an official letter.
In early September, Executive Director of the International Labor Organization (ILO) Kari Tapiola met with Ambassador of Belarus in Switzerland Pavel Matsukevich and handed him an official letter demanding to stop persecution of the independent REP trade union and interference in his internal affairs, to immediately release Ihar Komlik, and to lift the status of defendants in the case of alleged unpaid taxes in 2011 off Fiadynich and Komlik, praca-by.info reports.
A meeting between Secretary General of the International Trade Union Confederation Sharon Barrow and official representative of Belarus in the Kingdom of Belgium Aliaksandr Mikhnevich will be held in Brussels where he will also receive a petition demanding non-interference in the activities of the REP trade union.
Important to note, on August 2, the union's office was searched, as a result of which all computer hardware was confiscated, the office of the REP trade union and personal property of Henadz Fiadynich and Ihar Komlik was arrested. A criminal case was started against Fiadyich and Komlik for "evasion of payment of taxes, fees in especially large amounts." Ihar Komlik has been held in prison since August 2 till the present moment.