MEP Julie Ward: We Must Start Acting With Regard To Belarus
3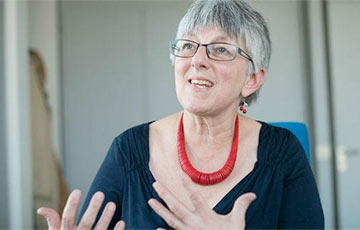 The human rights situation in the country is rapidly deteriorating.
The speech of MEP Julie Ward, pronounced on the eve of the voting on the resolution "Deterioration of media freedom in Belarus, notably the case of Charter'97" at the plenary session of the European Parliament on October 4 in Strasbourg, is herewith presented by civil activist Dzianis Kazakevich.
The EU must start acting with regard to Belarus. The passivity of the European Commission and the European External Action Service gives decisiveness to the government of Lukashenka. The suituation with human rights, in particular, with the media freedom, is rapidly deteriorating, the treatment of political prisoners is horrific, and this is in the country where the death penalty remains a disgraceful reality.
The case of human right defender Mikhail Zhamchuzny is particularly horrific. He has been kept in solitary confinement for most of the time, and this is in Europe.
Dzmitry Bobryk, a journalist arrested in August in a vicious attack on press freedom, has reported that whilst in detention he was forced to sign a cooperation agreement with the KGB.
The already mentioned case of Charter'97 causes greatest concern. They feel absolutely betrayed by the EU. That is why I insistently call on Commissioner Hahn and High Representative Mogherini to act and demand improvement of human rights situation from Belarus".
We remind, on October 4 the European Parliament adopted the resolution "Deterioration of media freedom in Belarus, notably the case of Charter'97".
In the resolution, they mainly discussed the recent scandalous amendments to the Belarusian law on mass media, blocking of the Charter'97 website, pressure on journalists of the Belsat TV channel, and the BelTA case. Political prisoners were also mentioned, as well as convicted leaders of the REP Trade Union Henadz Fiadynich and Ihar Komlik.
It will be recalled that on September 3 editor-in-chief of Charter-97 Natallia Radzina announced the threat to informational resource cause by drastic reduction in financing and called readers for solidarity. Ways to support the website:
DONATION VIA PAYPAL:
MULTI-CURRENCY ACCOUNT FOR ASSISTANCE:
Bank's name: Bank Millennium S.A.
Address: ul. Stanislawa Zaryna, 2A, 02-593, Warszawa
IBAN: PL 97 1160 2202 0000 0002 1671 1123
SWIFT: BIGBPLPW
Name of the account holder: Fundacja "KARTA '97"
Purpose/title of payment: Donation for statuary aims
You can contact us by the e-mail charter97@gmail.com