MEP Michaela Šojdrová: Society Is As Free As Its Media
3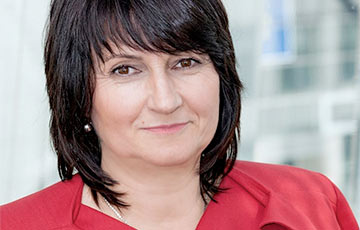 The Charter'97 blocking in Belarus is unacceptable.
The speech of MEP from the Czech Republic Michaela Šojdrová pronounced on the eve of the voting on the resolution "Deterioration of media freedom in Belarus, notably the case of Charter'97" at the plenary session of the European Parliament on October 4 in Strasbourg, is herewith presented by civil activist Dzianis Kazakevich.
"A society is as free as its media are. I am very pleased that the European Parliament is in favor of supporting independent media. Journalists in Belarus are experiencing a new wave of repression. Journalists who criticize the regime of Aliaksandr Lukashenka are arrested, beaten or forced to pay fines. The authorities are blocking access to independent media on the Internet. The Charter'97 news website, which serves as a platform for those who are trying to support democracy in Belarus, has also been blocked.
This year, the Belarusian parliament adopted amendments to the law on the media. The reason was the fight against disinformation, but in fact this is the new censorship. We must defend freedom of speech, independent media and democracy in Belarus. Arrests and physical attacks on journalists are unacceptable; censorship is also unacceptable. Freedom of assembly and other freedoms should be our conditions for cooperation with Belarus."
We remind, on October 4 the European Parliament adopted the resolution "Deterioration of media freedom in Belarus, notably the case of Charter'97".
In the resolution, they mainly discussed the recent scandalous amendments to the Belarusian law on mass media, blocking of the Charter'97 website, pressure on journalists of the Belsat TV channel, and the BelTA case. Political prisoners were also mentioned, as well as convicted leaders of the REP Trade Union Henadz Fiadynich and Ihar Komlik.
It will be recalled that on September 3 editor-in-chief of Charter-97 Natallia Radzina announced the threat to informational resource cause by drastic reduction in financing and called readers for solidarity. Ways to support the website:
DONATION VIA PAYPAL:
MULTI-CURRENCY ACCOUNT FOR ASSISTANCE:
Bank's name: Bank Millennium S.A.
Address: ul. Stanislawa Zaryna, 2A, 02-593, Warszawa
IBAN: PL 97 1160 2202 0000 0002 1671 1123
SWIFT: BIGBPLPW
Name of the account holder: Fundacja "KARTA '97"
Purpose/title of payment: Donation for statuary aims
You can contact us by the e-mail charter97@gmail.com