"All Workers of Belarus Annoyed with Lukashenka!"
72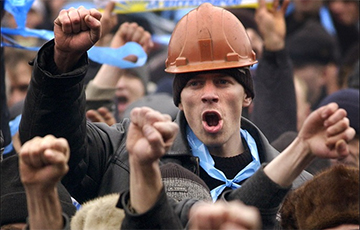 Social upheaval may start at any time.
Several days ago workers of Minsk went on a strike and said: "Our patience has run out". It turns out that workers at VTK Production (production of doors) have not been paid salaries for several months already. As a result, two shops do not work.
Charter97.org decided to contact Trade Unions' leaders of Belarus and tried to learn more about the situation. It also asked experts whether the local case reflected the situation in the country.
Henadz Fiadynich, the leader of the Independent Trade Union of Radio and Electronic Industry (REP), commented on the situation:
- Yes, I read about the strike. Unfortunately, workers did not ask us for help. Nevertheless, I'd like to point out that recent strikes may cause something more incredible, which sounds encouraging.
Deputy Chairman of the Belarusian Independent Trade Union (BITU) Yury Shvets says that workers of VTK Production did not address them as well, but the country has burst with information about arrears in wages:
- You know, I have been defending rules of workers for many years. I do hope that people on the strike will drop the other shoe. It is noteworthy that there were other cases of such mess. I mean arrears in wages. Unfortunately, it's the nationwide problem.
It's not new that there are lots of angry people in Belarus. I'd say all workers of Belarus are annoyed with Lukashenka! Unfortunately, they show it only in the smoking area. But I do hope that Belarusians will start persistently to stand for their rights!
Social upheaval may start at any time.