Resident Of Protest House In Rosa Luxemburg Street: What Is More Precious, People Or Cars?
4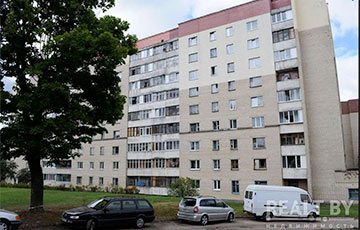 Rosa Luxemburg street residents continue their struggle.
On Friday morning, tenants of the nine-storey building in the 2nd lane of Rosa Luxemburg street, which is located behind the Maskouski district executive committee and the office multistoried building, came out against the construction of a parking lot.
"Our house is located between the railroad tracks and the juncture of the 1st urban transport ring under construction, – Tamara Slizharnaya, a member of the initiative group of the house No. 4, building 2, told Salidarnasts heatedly. – We only have 13 meters of sanitary land, which separates the residential building from these arteries. And here, on this piece, where we planted trees ourselves, the general contractor, ZAO Lekt, intends to build a parking lot for the office building.
According to the interlocutor, in the morning, representatives of the general contractor and Zelianstroi arrived at this place – they planned to cut down trees.
– What is more precious, people or cars!? How much can they set at naught the people here? Before constructing the first ring, the alley was cut down, 100-year-old oaks were cut. They were building the road, almost got to the foundation, this house may soon fall apart! – the local resident is indignant. – And now they come in the dark and behave outrageously. They show the permission signed by Rymasheuski (the first deputy chairman of the Minsk City Executive Committee). They can do everything for money! And no one asked us, neither then, nor now, although we had also appealed to the prosecutor's office. Where are the laws? Where is the Ministry of Environment?
As Tamara notes, Zelianstroi employees, having heard the protests of local residents, went away. The members of the initiative group, in turn, intend to go to the Minsk City Executive Committee urgently to see Fiodar Rymasheuski and demand to abolish the construction of the parking lot.